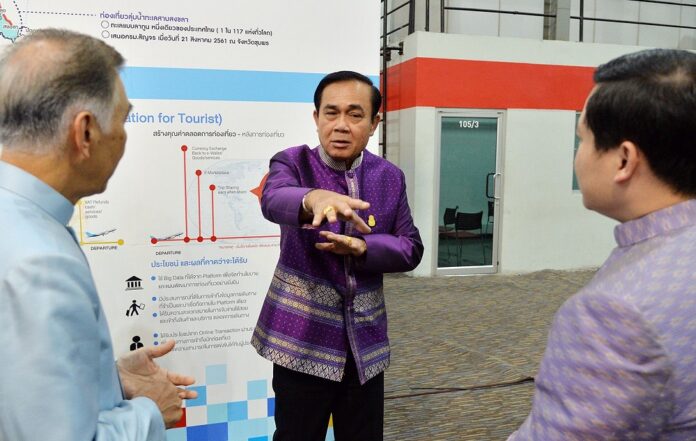 BANGKOK — A party led by four junta ministers said Monday it would formally nominate Gen. Prayuth Chan-ocha as the next prime minister.
Though the party was long seen as a political vehicle for the junta leader, Palang Pracharat deputy chairman Suvit Maesincee confirmed today it would vote for Prayuth after the February 2019 election concludes.
"The party can confirm that it would submit Gen. Prayuth Chan-ocha as the No.1 candidate for premiership," Suvit, who also serves as technology minister for the military government, told reporters.
The new constitution drafted under the junta's auspices requires each political party participating in an election to submit three candidates it would support as prime minister.
Unlike previous constitutions in recent decades, the current charter does not require the prime minister to be an elected MP, paving the way for an "outsider prime minister."
Suvit said Palang Pracharat members will discuss who to nominate as the two other candidates.
Prayuth declined to answer reporters' questions Monday morning as he departed for a tour of Chaiyaphum province, though last week the junta leader said he's open to nomination from any party.
Correction: An earlier version of this article misstated Prayuth's destination as Chai Nat province. In fact, it was Chaiyaphum. 
Related stories: 
Parties Fume Over New 'Gerrymandered' Electoral Map