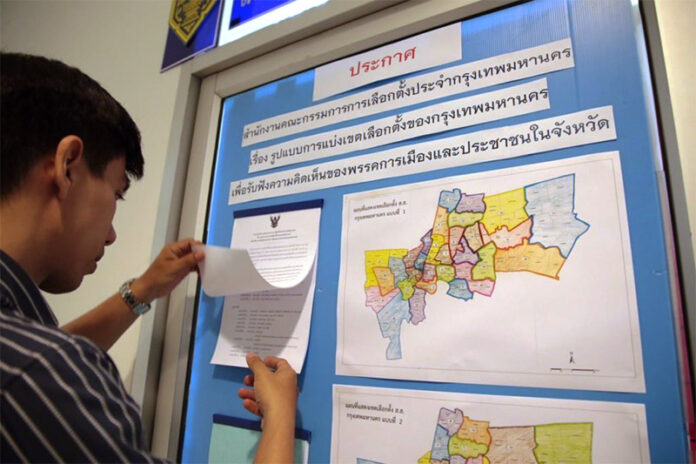 BANGKOK — Political parties are angry about a redrawn electoral map of Thailand they say has been gerrymandered to boost the prospects of pro-junta parties.
Both major political parties, Pheu Thai and Democrat, said the new constituency map revealed Thursday increases the fortunes of parties such as Palang Pracharat Party – which supports the military government – in several provinces. One politico warned of a backlash.
"I am confident in people's decision-making, that they will restore justice through elections when the electoral power is in the hands of the people… I believe in the power of the people," said Phumtham Wechayachai, Pheu Thai secretary general.
Read: 150+ Politicos Defect to New Pro-Junta Party
Over the weeks, the Election Commission has repeatedly denied favoring any political party and insisted on its independence – despite all being appointed by the junta's rubber-stamp parliament. Junta leader Gen. Prayuth Chan-ocha exercised his absolute power on Nov. 17 to allow the commission to rewrite the maps just before it was to release them.
That fueled allegations of last-minute interference to benefit pro-junta parties.
Sampan Tangbenjapol, a former MP for the Democrat Party in Sukhothai province, accused the Election Commission on Thursday of aiding pro-junta parties by redistricting the province he represented before the coup.
He questioned in an online post how the commission came up with a new, fourth version when only three had previously been under consideration for the province. He asked why changes were needed when the population number in the province hadn't really changed.
"It is just the beginning but already there's a lack of transparency," Sampan said.
They say the new voting divisions published in the Royal Gazette show constituencies suspiciously redrawn in a number of provinces, particularly Ubon Ratchathani, Sukhothai and Nakhon Ratchasima.
Though no one mentioned Palang Pracharat by name, it was understood they referred to the party, which includes at least four members of the ruling junta's cabinet and has enticed other parties' members to join.
Phumtham said Friday some districts were split into four or five constituencies after local politicians there defected to Palang Pracharat in those provinces.
Put to the question, deputy junta leader Prawit Wongsuwan said Friday that he didn't know if the new map favors pro-junta parties.
"Oh! How would I know?" Gen. Prawit said, adding that every party wants to gain from the map.
Also casting doubt on Sukhothai's new map was Ratchada Thanadirek, a Democrat who represented Bangkok.
"Did they have to do this much in order to gain victory? … Malaysia also did gerrymandering, but [the ruling party] ended up losing nonetheless," she wrote online, referring to this year's toppling of the increasingly authoritarian Najib Razak by 93-year-old Mahathir Mohamad.
Issara Somchai, a Democrat in Ubon Ratchathani, also cried foul. He said two former electoral constituencies, the Muang Sam Sip and Khueang Nai districts, were folded into one.
This, Issara said Thursday, forces his party to choose which of its two former district MPs to put forward in the election now slated for late February.
"We will lose one MP seat as a result," Issara said. "I personally think the districts are large and ought to be separated. They shouldn't have been merged. Doing things this way, the Democrat Party stands to lose a lot of opportunities in Ubon Ratchathani… I really don't know the intent of the commission."