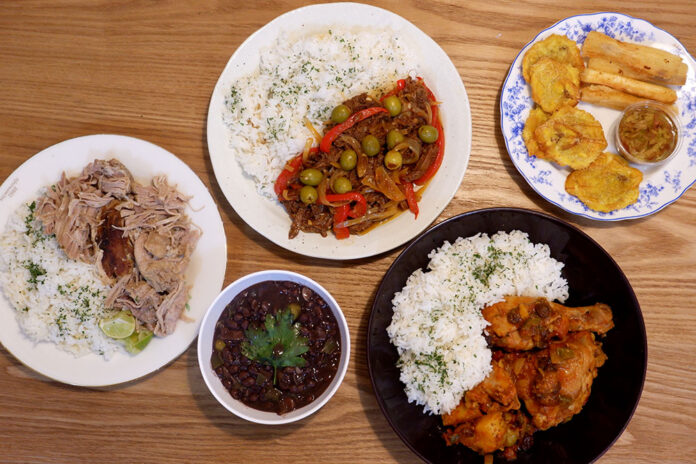 BANGKOK — Spoon hearty scoops of ropa vieja and fricasé de pollo while munching on yuquitas fritas, from the comfort of your own home.
That's right, authentic Cuban food, just like how abuela (grandma) makes it, is now available for delivery courtesy of Ray Gonzalez, 38, is the sole proprietor and cook of Casa Panza.
"Most people think that Cuban food is similar to Mexican food. But it's about as similar to Thai food is to Indonesian," Gonzalez said in an interview. "This is 100 percent what a Cuban grandma would make. It's time to introduce Thais to Cuban food."
Gonzalez said he learned the recipes from his grandmother, who fed him for most of his childhood. His mother was born to Cuban parents in Los Angeles, while his dad moved to the United States from Cuba in 1980.
The name of his restaurants, Casa Panza, means "belly house," because Gonzalez says he wants to fill everyone's bellies and he had an aunt's cousin who would put his belly on the table at restaurants and ask, "How much will you fill it for?"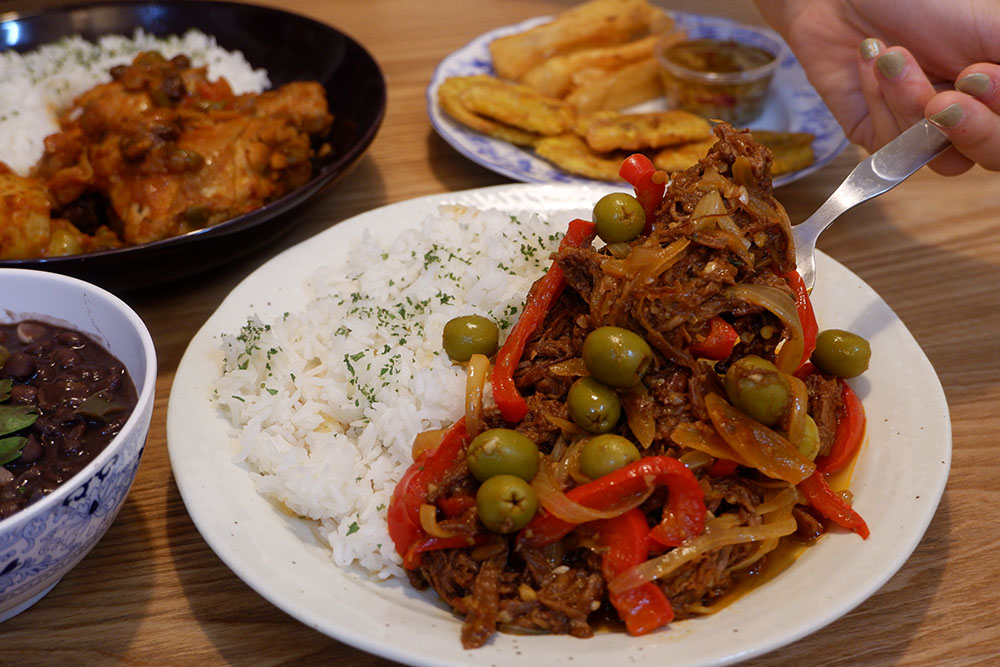 He decided to open Casa Panza after the COVID-19 pandemic took away his work in education.
We had a delivery of four dishes, each of which were a sizable portion – it took three hungry people to finish the four meals.
The most memorable standout dish for us was the Ropa Vieja (340 baht), a tender beef brisket with red bell peppers, olives, richly cooked in red wine.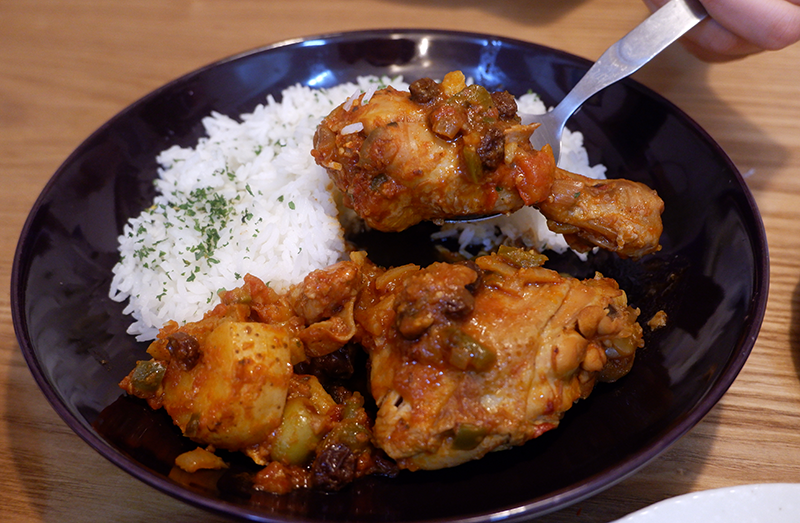 For a lighter meat meal, try the Fricase de Pollo (270 baht) which is chicken with sofrito (a base of aromatic vegetables cooked in oil with spices) with potatoes and plump raisins, but also in a red wine reduction.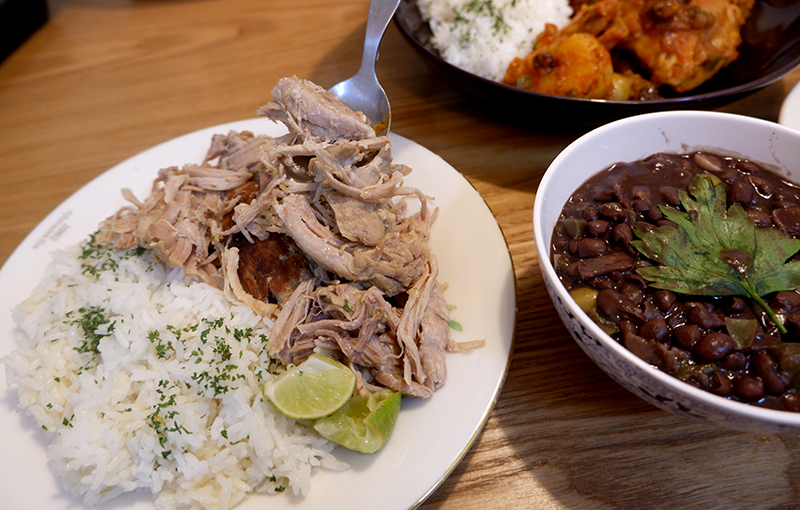 The Lechon Asado with a side of black beans (290 baht) is marinated for 36 hours, a stringy, yet tender, lime-kissed mess. They pair perfectly with the black peans, cooked with Cuban spices and just enough bacon and fat to make it lip-smacking.
Rice is a comforting familiarity on the plate, but Gonzalez cooks it as Cuban cuisine dictates, made with a bit of garlic and olive oil.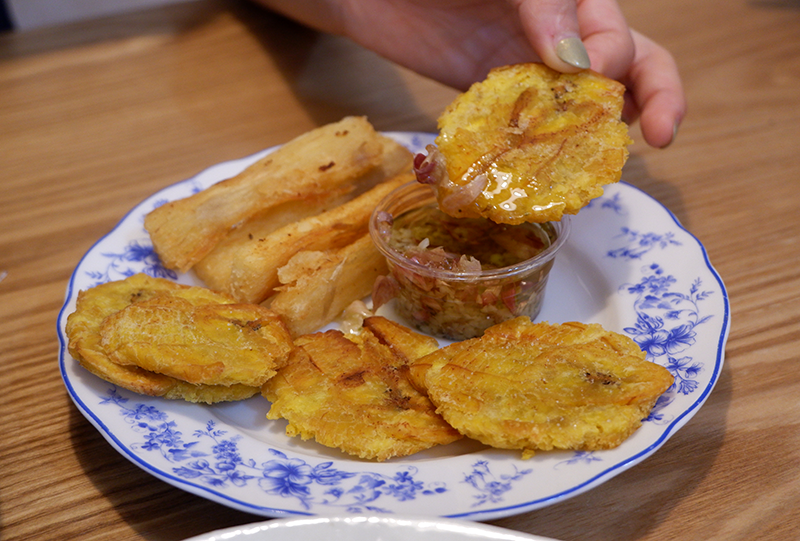 For the whole Cuban experience, don't forget to try the Yuca Fries (110 baht) and Tostones (120 baht) with mojo sauce. The yuca, or cassava fries, as well as the green plantains, are sprinkled with a bit of salt and dipped in a mojo sauce made of garlic oil and bitter orange.
"Thais eat it sweet, but we eat it savory," Gonzalez said.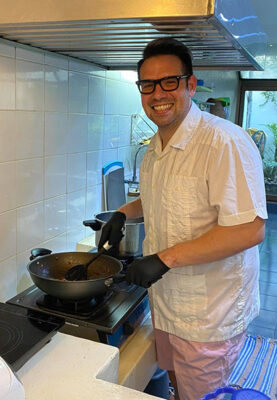 Since Casa Panza opened in late November, Gonzalez has gotten orders from largely Latin expats or those who just miss the food scene in Miami.
"Cuban Americans, Puerto Rican Americans tell me it's as if they're sitting in grandma's kitchen and eating the food of their childhood," he said. "There's no other authentic Cuban food in Southeast Asia."
Gonzalez said Cuban food is influenced by Spanish, African, Moroccan, Chinese, and Caribbean cuisine – and genuine at heart.
"It's a very, very homemade, no-frills food. It's not hiso," he said. "After working in the sugarcane fields, this is what you eat when you're hungry at home. It's filling, but not heavy, and there's a lot of vegetables, beans, and meat. The basis should be tangy."
To order from Casa Panza, message their Facebook, Instagram, or WhatsApp a day ahead so Gonzalez can get to work marinating the meats. Casa Panza also does vegetarian orders, which may include a quimbombo okra stew.
Our review is unsponsored and was based on a hosted delivery.