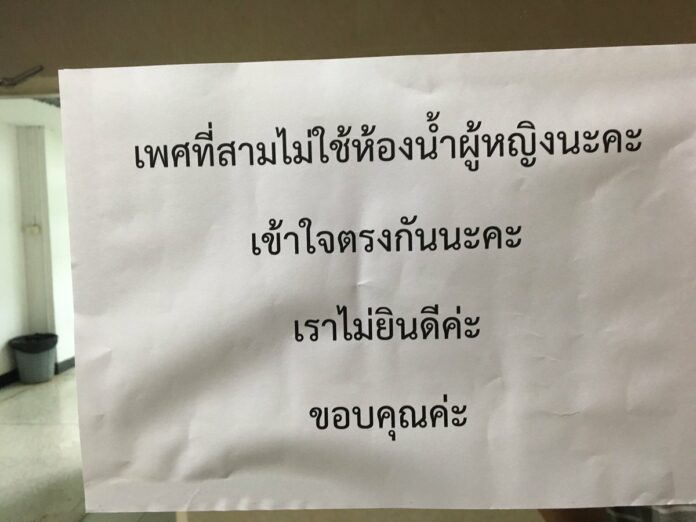 BANGKOK — A sign at a women's bathroom demanding it not be used by those born with another gender went viral and sparked debate online overnight.
Tweeted on Tuesday by a transgender intern at a public radio station, the photo purports to show a sign she recently discovered outside a restroom she had been using there.
"Third gender, don't use the women's room. Understand? We don't welcome you. Thank you," reads the sign she said was posted at Radio Thailand, a public radio station owned by the National Broadcasting Services.
The intern, who asked to be identified only as @Foremost for fear of repercussion, said by telephone that she was surprised and upset by the sign.
"I've been using this room for over a month and this morning I found the paper telling me to use men's room," she said.
Trans people, particularly women, have routinely used the restrooms of their preference, and the debate comes as Thailand's LGBT community seeks more overt social acceptance rather than peripheral tolerance.
Foremost said she's been an intern at Radio Thailand since the beginning of June and has always used the women's bathroom. She asked the cleaning staff about the sign, and they told her they had no knowledge of it.
"I don't like the part 'not welcome.' How were you raised to be this narrow-minded? Your parents don't love you?" Foremost wrote in her tweet of the image.
Her message was retweeted more than 3,200 times and drew a stark divide in reactions.
"Bullshit. Using the toilet takes less than five minutes, not spending the night. This shouldn't be an issue at all. The sign's writer is so narrow-minded!" wrote Facebook user Warutthaya Korsrettharat on the page of LGBT-positive party organizer Trasher Bangkok.
Another female Twitter user wrote that she and her girlfriends would feel uncomfortable using a bathroom with transwomen who haven't undergone sexual reassignment, framing it as a sanitary issue.
"We feel their fluids are still men's," @Annaleaz tweeted. "But I don't think we have the right to ban transwomen."
Someone suggested gender-neutral bathrooms be built.
"[If] women don't want Khatoey in the lady's room, they should build a transgender toilet for us so we can go there. I don't wanna use the same room with you too, vaginas smell," @Chocooliie tweeted.
Someone else said it made them feel insecure.
Twitter user @Satang27635986, wrote "… there might be someone pretending to be third-gender and sneaking in to do something bad, like peeping or taking pictures. [This sign might be] to protect against such situations."
Foremost replied that while she understands such concerns, she could have been informed differently — telling her nicely face to face.