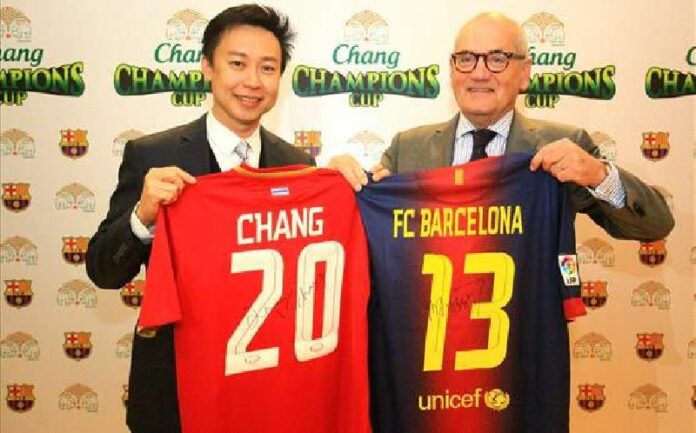 (25 April) This coming summer, Thai football fans will
continuously welcome many soccer stars from the giant European clubs
Manchester United
the 20th English Premier League title of this
season,
Barcelona
champions of Spain,
Chelsea
the former UEFA Champions League 2012 and
Liverpool
the favourite team of Thai
fans.
Football has become big business in Thailand, especially among the big companies such as Singha and Chang beer which compete heavily with each other.
When Singha has become a global partner of Manchester United and Chelsea, Chang does the same with Real Madrid and Barcelona. Standard Chartered bank is also the main sponsor of Liverpool Football Club while the King Power is the ownership of Leicester City.
It could be seen the market enthusiasm since the exiled former Prime Minister Thaksin Shinawatra had bought Manchester City in 2007 before sold it to the Abu Dhabi United Group in 2008.
The English football is the most popular league in Thailand for long time, especially for the Manchester United and Liverpool.
Singha Corporation as a global partner of the Red Devils will celebrate its 80th anniversary by organising Manchaester United and Chelsea to visit Thailand. Manchester United will bring the trophy to Thailand at Bangkok′s Rajamangala National Stadium on July 13 while Chelsea who will play a friendly in Bangkok on July 17.
United have made four previous visits to the country but have not played here for 12 years. Their preparations for the 2013-14 campaign will also involve matches in Sydney, Tokyo, Osaka and Hong Kong.
′′All the top players will be here in Thailand led by Wayne Rooney and Robin van Persie,′′ said former United captain Bryan Robson, now the club′s ambassador.
′′Our visit to Thailand in July plays an important role in the team′s pre-season preparations for the season ahead, as well as enables the club to engage with some of its global fans and commercial partners,′′ United chief executive David Gill said in a statement.
′′There are over 19.5 million Manchester United followers in Thailand and the club has been lucky enough to visit on a number of occasions.′′
While Liverpool Officer Matthew Baxter and the club′s Ambassador Ian Rush said during a press conference in Bangkok on April 24 that their stars including Stephen Gerrard and Luis Suarez will join the trip to visit Thailand for the fifth time. They will meet the fans at Meet and Greet Program on April 27 and will also play one game at Bangkok's Rajamangala National Stadium on Sunday, July 28.
According to a news release on their website, Liverpool believe they have more than 14 million followers in Thailand.
Another giant club, Barcelona announced on Friday 19 April at an official presentation in Bangkok that their players, including superstar Lionel Messi will play a friendly match with Thailand national team on August 7 in Rajamangala National Stadium.