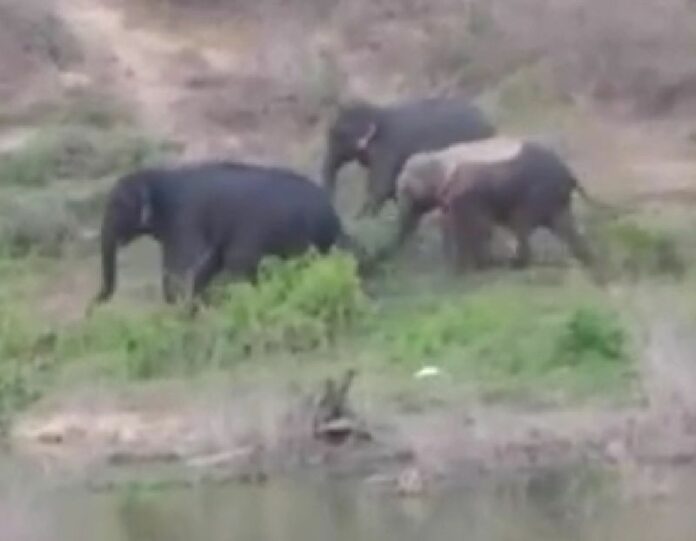 (7 May) Our correspondent in Chiang Mai province has reported that a group of international reporters have visited the province recently to discuss with representatives from elephant conservation organizations in the northern part of Thailand about the wild elephants living in forest conservation at Kaengkrachan National Park, Phetchaburi Province
Questions were raised by many reporters about the news that Thai officials have been attempting to locate and capture a ?white elephant? in the area. Some reporters wondered if the hunt could be a disruption of the animal's natural life.
One of them is a Washington Post reporter, who stated that she came to Thailand to investigate this incident specifically. She said there were news of wild elephants being killed in the national parks in Thailand which greatly shocked much of the public in the US since other national parks around the world all work to conserve wildlife while Thailand appears to be failing even to protect wildlife living in the conservation area.
She also added that Thailand was recently the host of the Convention on International Trade in Endangered Wildlife and Wild Plant Species (CITES), in which wild elephants was one of the most prominent topics. The news of killing of wild elephants and the officials? hunt for white elephants have greatly confused the western media since it is a clear violation of the elephant's rights.
Her trip to Thailand is meant to acquire more information on this subject to shed light to the public in form of news stories and documentaries on wild elephants in Thailand, she said.
Meanwhile, Mr. Rungsrinoppadol Yukol, head of the Rungsrinoppadol Yukol Foundation which seeks to protect wild elephants, said that he is greatly opposed to the hunt for the white elephant at the Kaengkachan National Park.
He said he has already contacted Department of National Parks, Wildlife and Plant Conservation to order the National Park to cease the hunt immediately. The Royal Elephant House also confirmed that they will not be sending in any officials to this national park to aid with this hunt, he added.
Recent reports revealed that the national park had invited the press to go inside the forest and watch as the elephants march down to drink water, but no strangely colored elephant is to be found. It is safe to say there are no white elephants in the park and the hunt should be stopped immediately, Mr. Rungsrinoppadol said, imploring the park officials to let the elephants be.
He also revealed that his foundation is currently working on a song about the life of elephants that are always hunted and about heir cries for mercy, which will be released to the public soon.
This song will be the vice of the wild elephants, so that the public and the hunters can finally feel the pain of these elephants, Mr. Rungsrinoppadol said.