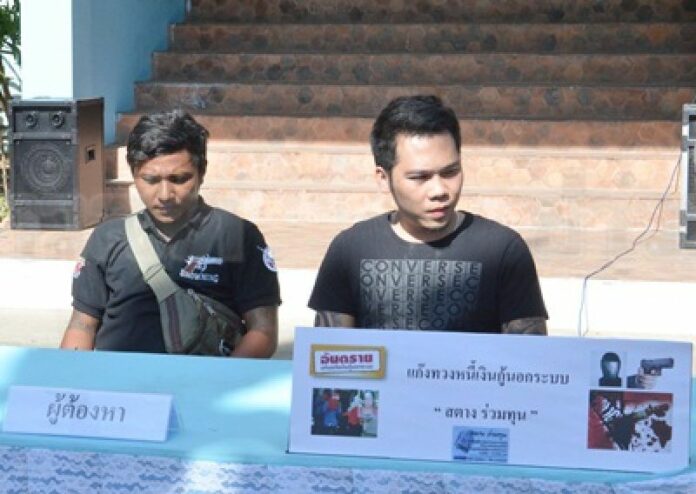 (16 May) Kanchaburi Police said they arrested loan sharks who forced their way into a market vendor′s home and assaulted her for not paying the loan in time.
The police said in conference that the suspects are Mr.Chaiyun "Chai" Muanpong, 36, and Mr.Kittipol "Art" Junohiam, 27. Ms. Boontaa Jaemsai, a coffee vendor in local market, identified the suspects as the loan sharks who slapped her.
According to the police, Mr. Chaiyun and Mr. Kittipol belong to a loan shark gang in the area that distributed their business cards in public telephone booths, parks, and left them on the windshields of parked vehicles. They reportedly offered loans of 3,000-4,000 baht; guarantor is required, and an interest of 20 baht per 1,000 baht loaned is required to be paid daily.
If the locals cannot pay the interest on the loan, police said, the gang members would use intimidation or even physical abuse, like in the case of Ms.Boonta.
Ms Boonta said she took out a loan of 4,000 baht in February, paying 80 baht interest every day ever since. Recently, Ms. Boonta said, she started having some family problems and lost her cellphone and she could not contact the loan sharks. When they could finally reach her, she reportedly told the men to come get the payment at her home she could not go out to her usual coffee vending spot.
She said 2 men arrived and initially informed her that their boss told them not to confiscate her belongings or hurt her. However, 1 of the men then called someone on the phone and 5 more men arrived, Mr.Chai included, and slapped her on the face.
Ms. Boonta decided to call the director of the police station personally. Officers then rushed to the victim for questioning and searched the suspect's house to uncover a list of all the loans customers.
Police said that during the house search, Mr. Chaiyun seemed stressed and when the officers were not looking, took some pills to commit suicide. He was sent to the hospital for a stomach pump and survived. He was then brought to the press conference and taken into custody for further questioning and investigations.
Pol.Col.Pongsakorn Upapong, director of the Mueang Kanchanaburi police station, said the arrests of the 2 suspects are part of gang suppression systems and policies initiated by Deputy PM Chalerm Yoobumrung.
Meanwhile, Ms. Boonta said she has sent messages to other victims of these loan sharks, urging them to visit Mueang Kanchanaburi police station to press charges.