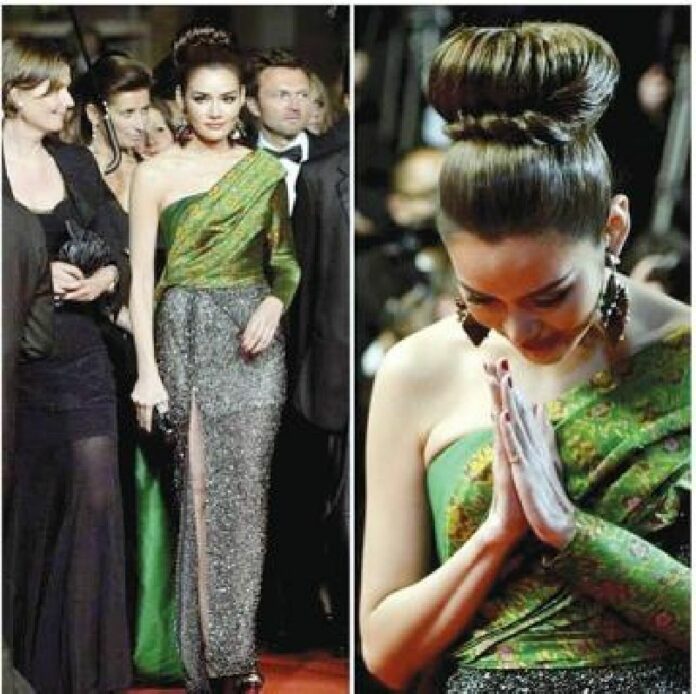 (30 May) The popular actress Araya ?Chompuu? Hargate speaks out on her
critics on social media who accused her of etraying Thailand for failing to do traditional Thai
greetings on the red carpet at Cannes Film Festival.
Unlike another Thai
actress Rhatha ?Yayaying? Phongam who was present at the Red Carpet with her
fellow casts of the film ?Only God Forgives?, Ms. Araya was not a part of any film production; she
was there as a brand ambassador of the cosmetics company l?Oreal Paris.
It is not
everyday that Thais get to walk the Red Carpet, and Ms. Rhatha was praised by many netizens for
showing Thainess to the world, by her costumes – which employed traditional Thai look – and her
?wai? (the traditional Thai greeting method) to the crowds of Western reporters.
Ms.
Araya did not wai, and that was enough to cause the outrage. A number of social network users
said Ms. Araya has forgot her origin, some even accused her of betrayal to the motherland. Ms.
Leena Jungjunja, a controversial talk show host known for her notorious language, said Ms. Araya is
just a pla ra eating half-breed. Pla ra is a fermented fish, which is seen as
favorite dish of poor farmers in the rural Northeast.
Speaking to Khaosod, Ms. Araya denied
all these accusations. She said the reason why she did not project Thainess on the Red Carpet is
that she was there as an ambassador for l?Oreal, so she has to represent the brand, not
herself.
You have to understand that I was doing different duty. It can?t please everyone.
Did I think there would be this sort of controversy? Yes, I expected it. I knew there would be this
kind of uproar, the actress said.
As for Ms. Leena′s remark, Ms. Araya said with a laughter,
Well, I do eat pla ra sometimes!.
Our correspondent asked her what she
thinks about people comparing her to Ms. Rhatha, who seemed to be adored for being a good Thai
presenter at the Cannes. Ms. Araya said the comparison is expected, but she insisted the netizens
should understand that she and Ms. Rhatha were doing different roles.
I won?t ask everyone
to understand me, of course. Everyone has the right to think differently, Ms. Araya
said.