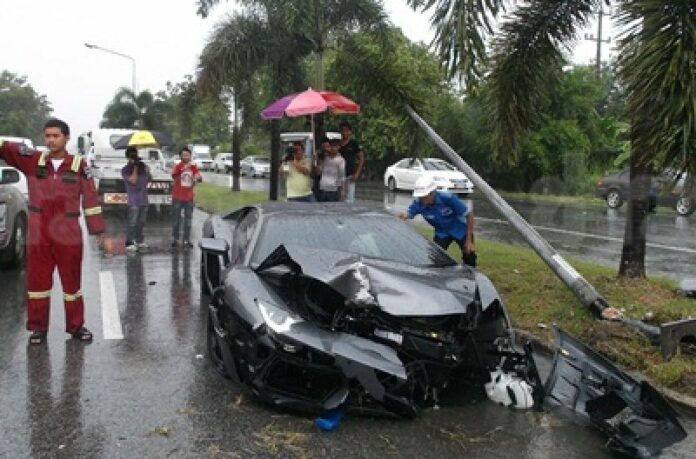 (30 May)
A CEO who crashed his 34 million-baht Lamborghini into several electric poles and survived without
serious injury credited his luck to the amulet he was wearing.
The incident took place near
Chonburi′s provincial transport hub on Sukhumvit Road. Arriving at the scene, police found a crashed
Lamborghini, license plate ?-6091, with its tires exploded, parked on the road after hitting into 2
electric poles and 2 trees.
Mr Somkiat Kruwongpaiboon, 45, was waiting for the police with
minor injuries. He said he worked as a managing director at Asian Steel Bar Company.
Mr.
Somkiat told police he was driving from Bangkok to attend his father′s funeral at a temple in
Chonburi, which is 5 km from the accident site. He said it was raining heavily and he eventually
lost the control of his car, spinning it several times before hitting roadside electric poles and
trees.
He said he was wearing Great Garuda amulet, surrounded by tiny diamonds, at the time
of the accident, which he believed contributed to his miraculous survival.