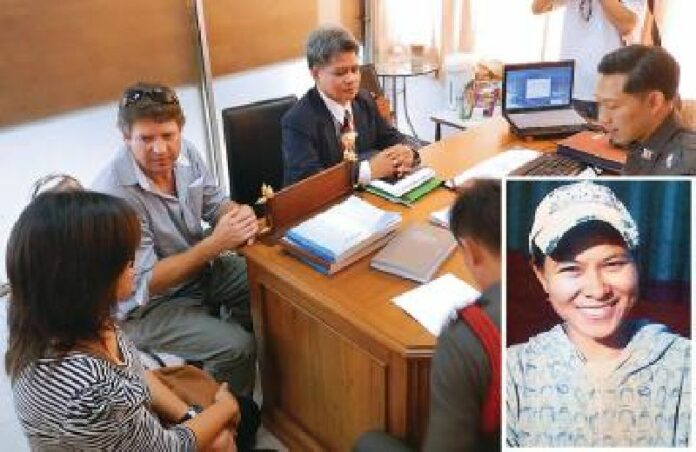 (5 June) An Australian
flew from his country to Thailand to report to police that his Thai girlfriend persuaded him to pay
15 million baht worth of dowry and investment money to her, only to
run away from him later.

Mr.Malcolm Mackolly, 43, who works as an onion farm owner in
Australia, and his lawyer reported to the police of Hatyai police station that he has been conned by
Ms.Boontip (surname undisclosed), 29, an ex-worker in his farm whom he had fallen in love with and
hoped to marry.
Mr. Mackolly informed the investigative officer that he knew Ms.Boontip
from his farm in Australia since she had been working there since 2009. He fell in love with her and
wanted to marry her. After he informed her of his intentions, Ms.Boontip traveled back to Thailand
and asked him to open up a summer school business named "Student Link Ltd." In Hatyai, for which he
paid 1 million baht.
Mr. Mackolly added that
while she was monitoring the business in Thailand, she had asked him to send over 12 million baht
from September 16 2009 – November 26 2012. At the end of 2012, she asked him to travel to Thailand
to ask her parent's permission to marry her and he paid a dowry of 2,999,9999 baht.
They had
a simple engagement ceremony and Ms.Boontip showed him around the tourist sites in Thailand and he
went back to Australia afterwards, according to Mr. Mackolly.
He said he realized he has been
conned in early 2013 when Ms.Boontip would not pick up his phone calls and refused to see him when
he visited in Thailand. He has his lawyer look into her and discovered that the company he set up
for her had closed down in 2012.
Mr. Mackolly told the police he has not received any
returns for his investment in this company, but what has hurt him the most, Mr. Mackolly said, is realizing that the woman he loved did not
love him and was only after his money.
According to Mr.
Mackolly, Ms.Boontip used his money to buy land and a car in her own name, and is now
living comfortably. He said he also discovered that she has conned foreigners like this several
times before. Mr. Mackolly eventually decided to fly
to Thailand to personally alert the authorities and to press charges against Ms.Boontip, hoping it
would help save foreign men from becoming victims of this type of scam.
He warned that this
incident has cost Thai workers in Australia their credibility.
The police has issued a
warrant for Ms.Boontip and if she does not willingly come in for questioning, an arrest warrant will
be issued.