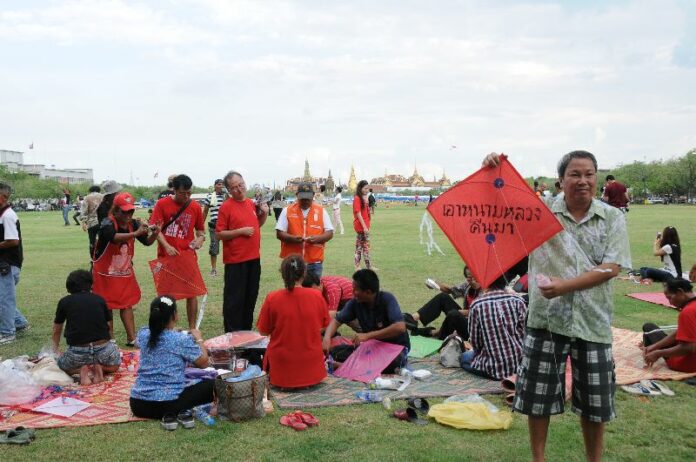 (8 June) Around 100
activists and Redshirts attended the gathering at Sanam Luang (Royal Field) in Bangkok organized by
24 June Democracy group today.
Some participants brought red-colored kites with political
messages, such as demand for release of political prisoners, while some others bought the kites from
local vendors and wrote the messages on the kites. Sanam Luang has long been a popular site for
kite-flying.
However, most of the group sat and relaxed on the grass or mats, chatting to
each other.
Ms. Suwanna Tarnlek, coordinator of 24 June Democracy group said that the event
is a friendly campaign calling for release of political prisoners, especially Mr. Somyos
Prueksakasemsuk, who is currently serving his sentence for lese majeste. She said it was not a
political rally and she had no intention to challenge the Bangkok Authorities.
As for future
events, Ms. Suwanna said her group will organize a fun fair – based on rural temple fairs – on the
evening of 23 June to commemorate the 81st anniversary of the revolution, led by the People′s Party,
which brought down Siamese Absolute Monarchy and established democratic rule on 24 June
1932.
She said the fair would include politics parody performances and dancing well into the
night. On the next morning, she said, the group will re-enact the reading of Statement of the
People′s Party at Royal Plaza, where the revolution took place 81 years ago.
Ms Suwanna told
our correspondent that a descendant of Field Marshal Plaek Pibul Songkram, a major figure in the
revolution, would also attend the event on 24 June.