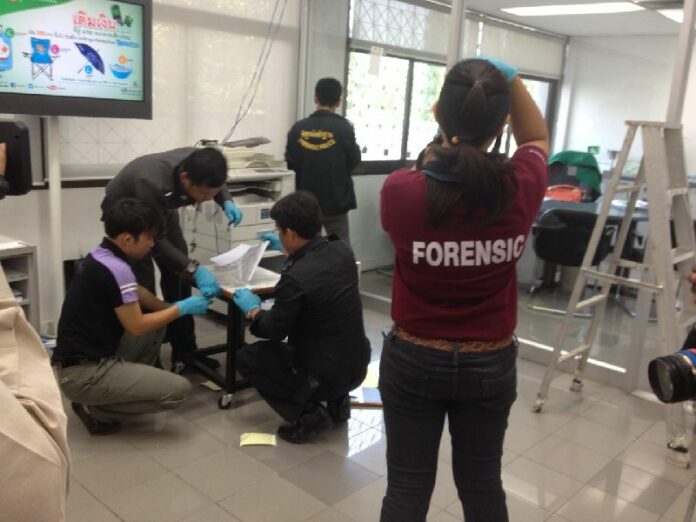 (17 June) Despite series
of dedicated efforts, burglars who broke into a Kasikorn Thai bank in Chiang Mai province managed to
get his hand on 200 baht in cash before fleeing the scene.
The incident took place at Bor
Sang branch of the bank in Sankampaeng district. Pol.Col. Monthop Saengchamnong said the at least 2
burglars broke into the bank on 02.30, approaching the bank from behind the building.
They
placed white tape on close-circuited camera and cut off the wires on anti-burglary device of the
building, suggesting that the suspects had good knowledge of their target.
Pol.Col. Monthop
said that the suspects then proceeded to saw off the iron bars on the window, entered the building,
walked upstairs, and broke into the storage room housing the bank′s air-conditioning system. There,
police said, the suspects climbed onto the air ventilation duct and, using electric cord as rope,
descended on the bank counters area where the bank′s safe box is also located.
However, the
burglars could not open the safe. They even turned on the light in the bank around 03.41-03.43 in
order to investigate the safe closely, according to footage recorded by the CCTV installed inside
the bank. The suspects had been operating in the dark earlier to avoid being captured on the
operating CCTV.
The suspects eventually abandoned their attempt and fled with 200 baht left
by the bank accountant on a desk. Pol.Col. Monthop said the police are looking for them, and added
that the suspects displayed extraordinary familiarity with the bank′s floor plan.