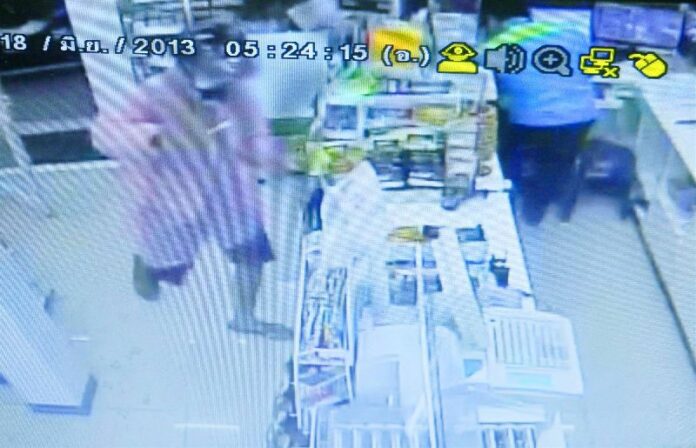 (18 June)
Robber in pink raincoat took 2,200 baht away from a convenience store in Phuket province before
returning at the shop to place a 10 baht coin on the cashier desk, which police believe is part of
superstitious beliefs among local robbers that would help them evade capture.
The robbery was
reported at a Family Mart store in Sisunthorn district. Ms. Wanna Ketkaew, 28, a cashier at the
store, told police that the robber was a male, estimated to be 20-25 year old, wearing pink plastic
raincoat and shorts. The suspect also wore a motorcycle safety helmet, a white cloth around his
face, and drove a Honda Wave motorcycle, but the license plate number is not immediately
clear.
Ms. Wanna said the suspect got off from the motorcycle and ran into the shop, holding
a knife. He jumped across the counter and held Ms. Wanna by the knife point, coercing her to give
him the money from the cashier drawer. Panicked, Ms Wanna gave him 2,200 baht in cash which was
stored in the drawer, then the robber quickly left.
Shortly afterwards, however, the robber
returned to the shop. Ms. Wanna was afraid he would assault her, but he just placed a 10 baht coin
on the desk, and left the scene again.
Police said they believed the suspect might be one of
the teenagers in the community, and added that local robbers are known to leave a 10 baht coin
behind at crime scene because they thought the ritual would help them magically evade
police.
A senior police officer said the 10 baht coin is now the major evidence, though. He
said that forensic science team is figuring out the fingerprints left on the coin.