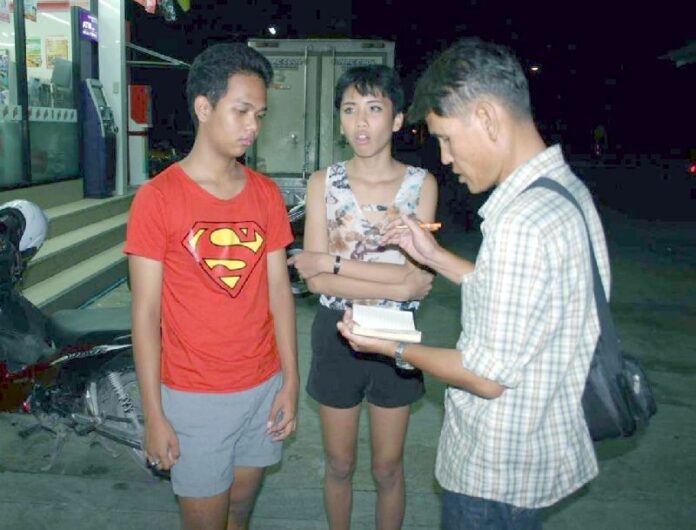 (19 June) 2 individuals who offered to help a motorcycle that ran out of gasoline on the highway in Pathumthani province ended up stealing the vehicle and robbing the driver of his golden necklace.
Police received report about the robbery – which reportedly took place in Muang district – and rushed to the scene to find Mr. Wanchai Ngarmkam, 18, standing next to a pond near Muang Ek community with 2 of hiskatoey (ladyboy) friends, aged 16 and 17 year old.
Mr. Wanchai told police that he was driving his friends to see someone in Muang Ek but ran out of gasoline on the way, so the trio had to walk their motorcycle along the highway to nearest gas station. Just then, Mr. Wanchai said, 2 males a on motorcycle arrived and offered to help lead them to the gas station. The 3 accepted help and successfully refueled their vehicle.
However, according to Mr. Wanchai, after they left the gas station, the individuals trailed them on motorcycle. When Mr. Wanchai′s motorcycle was passing through a quiet, dark area, the suspects reportedly brought out a gun and ordered Mr. Wanchai and his friends to stop their motorcycle. The 3 complied, and the suspects then stole a golden necklace from the group, and rode away on the victims′ vehicle.
Police say they are looking for the 2 suspects. One of them is described as dark-skinned, tall, handsome, 25-30 year old, while the other is said to be light-skinned, short, handsome, and 25-30 year old. The stolen motorcycle′s license plate number is อษล 982 BKK.