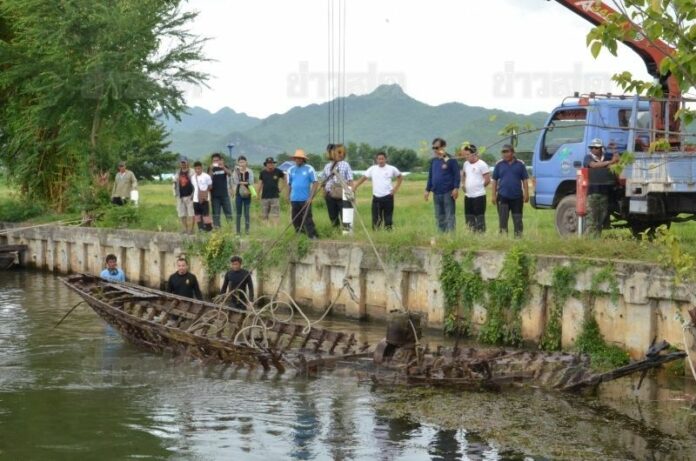 (3 July) Wreckage of a
wooden boat believed to be around 100 years old was recovered from a river in Kanchanaburi province
and, unexpectedly, attracts crowds of worshipers.
Mr. Man Pannawan, a rescue diver working
for Kanchaburi municipality, told our correspondent he was initially summoned to Wat (temple)
Chaichumpol Chanasongkram after a woman′s wallet fell into the river near the temple as she was
feeding the fish there.
Mr. Man said he was reluctant to dive into the 14 meter deep river at
first. But a spiritual force eventually convinced me to do so, he said.
At the river
bottom, he was surprised to discover a large, ancient-looking boat. He immediately alerted his
supervisor about the discovery. The rescue workers then arrived and dragged the drownded boat to a
pier near Phra Sangkaraj Bridge, which served better as a site for salvage operation.
The
crew proceeded to lift up the boat with crane trucks. However, it initially failed to retrieve the
boat, causing locals who were crowding the riverbank to suggest that the boat was cursed. Some said
they believed the spirit of the boat owner kept it stuck underwater.
Encouraged by these
suggestions, Mr. Man brought incenses and prayed to the boat owner′s ghost and other supernatural
beings, announcing that his team does not intend to insult their power and assuring those spirits
that the locals would worship the boat. After the ritual, he signaled the crane drivers to try for
the second time, and they succeeded.
The boat was built with teak wood and partly decorated
with brass. The engine attached to the boat was a steam-operated motor with oil container. Letters
17 BS 000 were inscribed on its side.
The wreckage is now housed at Chaichumpol
Chanasongkram Temple for the locals to visit and worship. Phra Rajavisuttimethee, abbot of the
temple, said it is up to each individual to decide whether coincidence or miracle that led the
rescue team into discovering the boat.
Reports say that unfortunately for the woman who
dropped her wallet into the spot where the boat was found, her wallet could not be located by the
diver.