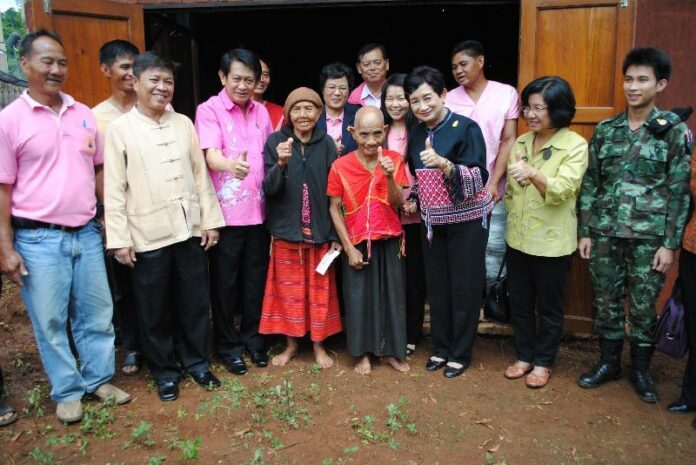 (11 July) 3 individuals
in the northern province of Mae Hong Sorn are reported to be over 100 year old – the oldest among
them is said to have lived through 119 summers in the mountainous region
Ms. Naruemol
Paanwat, the governor of Mae Hong Sorn province, took our correspondent to a village in Pan Ma Fa
district, where the ethnic group of White Karen has made their abodes. She said she received the
report about possibly oldest individuals in Thailand living there from a local official.
At
Muang Paam village, our correspondent was introduced to the elder trio: Ms. Nongmeko
Ratana-arayatham, reported age: 105; Ms. Nhojordor Wanawanich, reported age: 116; and Mr. Kamu
Thongnamchokedee, reported age: 119.
The 3 greeted Ms. Naruemol enthusiastically, and took
the governor to take a walk around the community, accompanied by their families. The 3 wore no
glasses, and conversed with their relatives engagingly. According to our correspondent, the 3 elders
moved around easily with the vigor of a 40 year old individual.
The locals told our
correspondent that Mr. Kamu, Ms. Nhojordor, and Ms. Nongmeko still gather herbs, collect firewood,
and cook on their own.
Mr. Kamu said he was born on 8 May1894 – the same year when Tsar
Nicoholas II took over the throne of Russia and the Dreyfus Affair was gripping France. He said he
had a wife, who died long ago, and 3 children, but these days he mostly lived alone.
Mr.
Kamu told our correspondent he could still accomplish things such as weaving basket out of bamboos,
finding fish in local pond, and harvesting herbs in the forest. He suffered some minor illnesses
like headache, he said, but never fell so ill that he would need hospital visit.
Ms.
Nhojordor, who claimed to be born in 1897, attributed the cause of her allegedly long life to good
food.
We don?t eat like the city folk. I eat clean vegetables and fish and rice in my
village, she told our correspondent.
Apart from oral testimony from the elders, and other
locals, there was no way to satisfactorily ascertain their ages. Indeed, Khaosod has previously
reported about a man in north-eastern Thailand who claimed to be 114 year old, but the vague
official document proclaiming his age could not be independently verified.
The governor of
Mae Hong Sorn insisted that official documents detailing the White Karen elders? date of birth can
be trusted, but attempted to clear any uncertainty. Ms. Naruemol said she is in the process of
contacting the Guinness World Records to organize an official verification of Mr. Kamu′s
age.
If Mr. Kamu is ever proven to be born indeed in 1894, he would easily hold the record as
the oldest living person in the world, placing himself ahead of Ms. Misao Okawa, a Japanese resident
verified to be 115 year old.