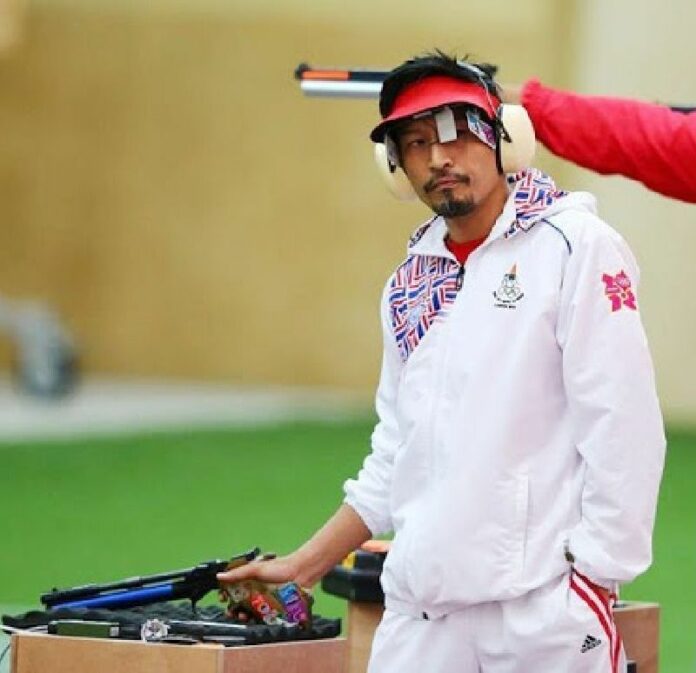 (12 July) Mother and wife
of Mr. Jakrit Panichpatikam, a former Olympic athlete who competed on behalf of the Thai National
Shooting Team, showed up at the police to press charge against him after they were allegedly
attacked and threatened at gunpoint by Mr. Jakrit.
Ms. Boonkid Panichpatikam said during the press
conference at Kannayao Police Station that Mr. Jakrit had been violently beating her
daughter-in-law, Ms. Nittiwadee Poohcharoenyos, while she and Mr. Jakrit s father could only look,
because they have been warned by the athlete not to intervene.
Mr. Jakrit′s father
could not handle the situation and eventually left the family, she said.
Three years ago,
according to Ms. Boonkid, Mr. Jakrit brought another woman home and claimed she was his love
affairs. They would do drugs together at home, Ms. Boonkid told the press ,I helped him recover
from cocaine addiction, then he turned to amphetamine.
Mr. Jakrit reportedly had occasional
hallucination because of the drugs, seeing worms grow on his body or imagining that strangers would
attack him.
One night, Ms. Boonkid said, he became hallucinated and thought that Ms. Nittiwadeebrought
home another guy, so he went into her room and shot into the bed where his wife and his 11-month-old son
were sleeping. Ms. Boonkid claimed the bullet was only few-inches away from the boy′s
head.
Mr. Jakrit also sometimes electrified Ms. Nittiwadee, according to Ms. Boonkid, adding
that Mr. Jakrit
has threatened both of them with his gun not to tell the police about their
ordeal.

Ms. Boonkid went on to say that on 10 July, Mr. Jakrit went to a shooting
ground in Bangkok′s Ramkhamhaeng area to appear in a TV programme. He reportedly brought his
new partner along with him and forced his wife to accept her as a mistress, but when Ms. Nittiwadee
rejected, he beat his wife in front of the crowd.
Ms. Boonkid said she decided at that moment
that she could not handle everything anymore. When Mr. Jakrit went out for drinks on July 11, she
reportedly decided to help her daughter-in-law, along with her two grandchildren, to escape the
house and contact the police.
Ms. Nittiwadee told the reporters she does not want to be in
the relationship with Mr. Jakrit any more, which is why she finally agreed to seek help from police
and Pavena Foundation, a charity group for women and children in distress.
Pol.Gen. Sarawut
Jindakham, who was at the press conference alongside Ms. Pavena Hongsakul, Minister of Social
Development and Human Security and head of Pavena Foundation, said that the police are trying to
locate Mr. Jakrit for further investigation.
Meanwhile, there are reports that Mr. Jakrit has
contacted Meenburi Police Station to require information about the prosecution, and said he was
ready to appoint the lawyer. He also claimed that he had given up all drugs, and the issue was a
misunderstanding and jealousy.