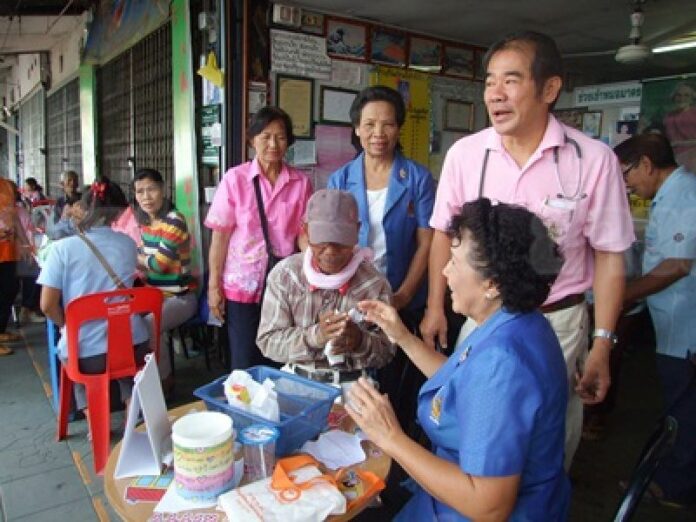 (18 July) Over 1,000
people in Buriram province lined up for health check-ups by a former doctor who offered free medical
service to commemorate the late Princess Mother of Thailand and celebrate the greatness of His Majesty the
King.
The locals gathered at Sonthaya Medical Clinic on Niwat Road in Mueang District to
receive medical services and medication, free of charge, from Dr. Sonthaya Wattanakosol, the owner
of the clinic. Many in the crowd are rural villagers and farmers who suffered illness from their
hard works.
Dr. Sonthaya, who once worked at Buriram Hospital around a decade ago, said he
had been offering his service on every 18 July and 5 December since 1995, when Princess Mother
Srinagarindra, the mother of His Majesty the King, passed away on 18 July.
As for 5 December,
it is the birthday of His Majesty the King, and also the national day of Thailand.
His former
colleagues, doctors and nurses from Buriram Hospital, also came to assist Dr. Sonthaya in his
charity day, providing medical advices and basic medication. Meanwhile, some locals donated drinking
water and food to accommodate the patients.
Dr. Sonthaya told our correspondent that he uses
his own money to pay for the medication. "I think I would keep on doing this until my last breath",
Dr. Sonthaya said.
Asked about what he expected from his charity, Dr. Sonthaya replied that
he wished his attempt would influence other Thais to do good things as well, especially in
dedication to His Majesty the King, because, Dr. Sonthaya said, "His Majesty has always been working
hard, for the wellness of all Thai people".