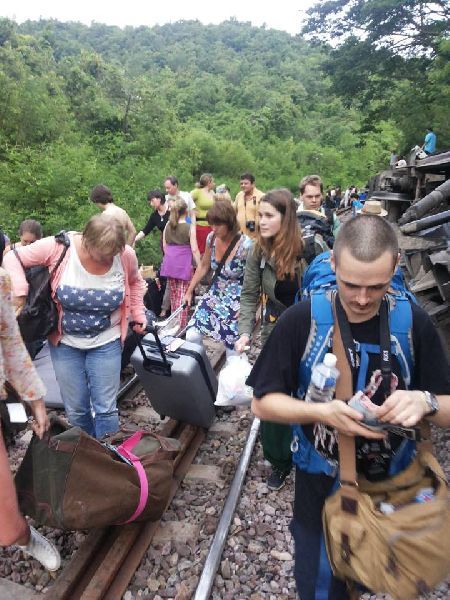 (19 July) Over 30 passengers, mostly foreign tourists, were seriously injured when their train derailed in the northern, mountainous province of Phrae earlier this week.
The train, which was carrying around 290 passengers, derailed in the night of 17 July as it was travelling in Denchai district. The rescue workers managed to remove the 7 fallen train compartments and cleared the busy Chiang Mai – Bangkok rail a day later. The cause of the accident is still pending investigation.
The incident was widely reported – including by some international news outlets – perhaps due to the fact that so many injured passengers were foreign tourists, but it is merely the latest addition to the long list of train accidents in the kingdom.
Just earlier this month, on 1 July, a train fell off its track near a train depot in Bangkok. Fortunately, no one was hurt as the train had already dropped off all passengers before the accident happened. The engineers said a flawed mechanism at the train junction caused the train to derail.
9 days later, another train carrying 800,000 litre of crude oil derailed as it was leaving an oil storage which belongs to the state-owned PTT Company in Klong Toey district of Bangkok. Since the train was an industrial vehicle, no passenger was injured by the accident.
There are conflicting reports about the the cause of the derailment. While the train engineers insisted that the soil around the rail track that was soaked with rain after a night of thunderstorm caused the accident, the national rail authority disputed that report and launched a separate investigation.
A passenger train also derailed on 5 April near Vibhavadi Road in northern suburb of Bangkok. 4 passengers were injured by the crash, including a pregnant woman. Initial investigation points to the rail track that becomes overheated and expanded by summer weather.
It should be noted that railway system in Thailand is very limited and poorly maintained. The system mostly employed diesel trains that would have been displayed in museum in some countries. No major extension nor overhaul of the railway has been completed for several decades now.
The infamous Hopewell project which was authorized in 1990 and aimed at building an elevated railway in Bangkok eventually failed some years later; its failure was owed in large parts to rampant corruption at the time.
However, the government of PM Yingluck Shinawatra recently approved a mega project, costing around 2.2 trillion baht, that featured construction of modern high-speed rail. The plan was nevertheless met with opposition from anti-government critics who feared the that project would lead to nowhere except mires of corruption.
Indeed, the remains of the Hopewell project – the Stonehenge-like slabs of concrete intended to house the futuristic high-speed trains – still stood along the stretches of functioning train tracks in northern Bangkok as a testimony of the gloomy past hanging over the present day Thai railway.
For comments, or corrections to this article please contact:[email protected]
You can also find Khaosod English on Twitter and Facebook
http://twitter.com/KhaosodEnglish
http://www.facebook.com/KhaosodEnglish