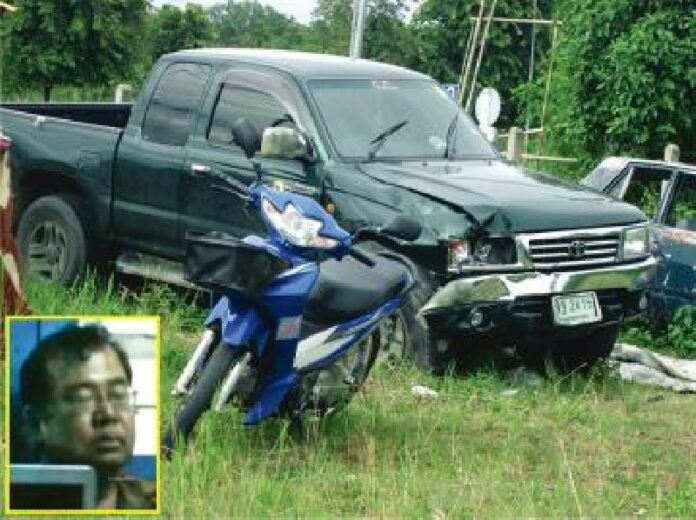 (17 July) Hospital
director in Lampang province was arrested after he allegedly killed a 17-year-old man as he was
driving under influence of alcohol.
Police in Hangchartra District arrested Mr. Narongrit
Ngao-tasom, 46, the director of Hua Rean Hospital, after he reportedly hit Mr. Siwakorn Saisuphap, a
student at Lampang Polytechnics, to death with his Toyota pickup. Mr. Narongrit was heavily drunk at
the time, police said.
The incident took place in the evening of 16 July. At the scene, they
found Mr. Siwakorn dead on the ground. Witnesses said they had given chase to Mr. Narongrit who
reportedly attempted to flee the scene but was eventually overwhelmed and escorted to the
police.
At the police station, test revealed that Mr. Naronrit had 0.188% of alcohol in his
blood. The number is considerably higher than the rate allowed by law of the Kingdom of Thailand,
which is only 0.05%.
The police then charged Mr. Narongrit for driving under the influence
and causing death. Mr. Narongrit later placed the bail money of 200,000 baht in cash and was
released from the custody.
Mr. Daranee Saisuphap, 39, the victim's mother, tearfully told
our correspondent that Mr. Siwakorn was her eldest son, and she never thought such tragic accident
would happen.
She also claimed that that Mr. Narongrit been trying to negotiate about
the compensation for her son′s death by sending his close associates to talk to the family. However,
Ms. Daranee said, the family was too busy dealing with Mr. Siwakorn's funeral and was in no mood for
talks about the matter.