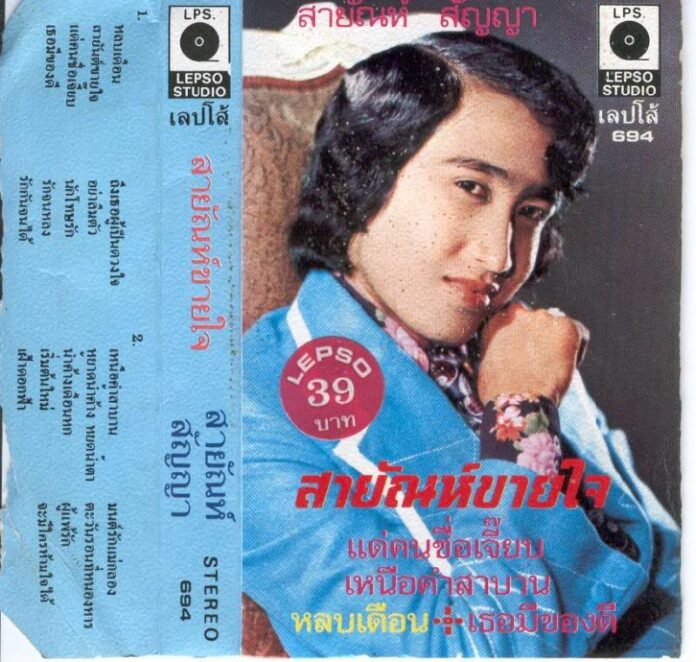 (20 July) The nation is
being gripped by the news that the country music superstar Sayan Sanya might be suffering from
pancreatic cancer, after the legendary singer was admitted to hospital in Bangkok with severe
condition.
The doctors have not yet confirmed that Mr. Sayan, 60, is the victim of the said
cancer, but persons close to him have suggested that it is the case to the media in last few days.
He remains at the hospital, where he gave brief interviews to Channel 3 talk show on Friday, with
his wife and daughters at the bedside.
Ms. Wannapon Samrit said the doctors will confirm
whether her husband is suffering from cancer soon. She said she wants to limit number of visitors to
Mr. Sayan because he needs rest, but he is cheered up a lot to see his friends visiting him at
hospital.
Hinting at the severe condition inflicting upon Mr. Sayan, Ms. Wannapon he told our
correspondent the doctors had administered 4 packs of blood to the singer already and will continue
to do so due to his failing pancreas.
Today, Mr. Sayan had received the most high profile
visitors yet: the envoy dispatched by Prime Minister Yingluck Shinawatra who sent him her regards in
a large bouquet. The envoy was led by Mr. Supon Attawong, deputy secretary to the Prime
Minister and a former Redshirt leader.
Mr. Supon told Mr. Sayan he also bore a personal
greeting from the former Prime Minister Thaksin Shinawatra – Ms. Yingluck′s brother who was deposed
in the 2006 military coup – who reportedly wanted Mr. Sayan to know that I will not abandon you
because we have struggled together in the past. The simple message somehow made Mr. Sayan′s eyes well up
with tears.
Using Mr. Supon′s iPhone, he recorded a video to thank Mr. Thaksin, saying that
he felt very grateful to receive regards from both the Prime Minister and Mr. Thaksin. He said in
the footage that he hoped Mr. Thaksin would be able to return from his self-imposed exile
soon.
You are my knight, Mr. Sayan said.
Mr. Supon later told our correspondent the
former Prime Minister will help pay for Mr. Sayan′s medical care and has instructed him to tell the
singer not to worry.
A son of farmer family in the rice-growing province of Suphan Buri, Mr.
Sayan Pao Sanya was interested in the country music since his childhood.
Later, during his
work as a car-washing staff at a petrol station, a country musician, Mr. Chonlatee Tarntong,
happened to stop by the petrol station to use restroom there and coincidentally heard Mr. Sayan
singing. Mr. Chonlatee instantly recognized the young man′s talent and introduced him to the
professional country music career soon afterwards.
The news of Mr. Sayan′s possible cancer
particularly touched on the hearts of many Thai country lovers because another prominent country
superstar Mr. Yordrak Salakjai, who was Mr. Sayan′s longtime friend, also passed away with
pancreatic cancer in 2008.