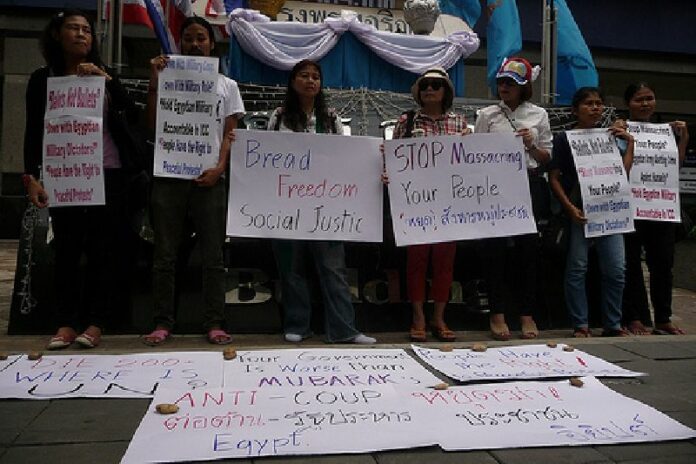 (16 August) Thailand′s
Ministry of Foreign Affairs has released a statement calling for the Egyptian authorities to
exercise restraint and bring a halt to the ongoing violence that has claimed over 500 lives.
Minister of Foreign Affairs Surapong Tovichakchaikul said in the statement that the Thai
government is deeply concerned by the heavy handed crackdown on the supporters of former President
Mohammed Morsi. He called for an end to violence from all sides and a peace dialogue so that Egypt
can move toward democratic transition.
From our own experience, the use of violence does
not solve any differences, the statement said.
In 2010, Thailand saw its worst political
violence in decades in which more than 90 people were killed, after the military launched a
crackdown on the protests of the Redshirts.
Officials at Ministry of Foreign Affairs said
there are around 2,100 Thai nationals residing in Egypt, most of them students living in Cairo.
The Ministry said there are no immediate plans to evacuate Thai nationals from Egypt, but it has been
cooperating closely with its officials in Cairo for emergency events.
Yesterday (15 August),
a group of activists also rallied in front of Sorachai building in Bangkok′s Ekkamai Road, where the
Egyptian Embassy is housed, to protest the police crackdown on pro-Morsi supporters, Prachatai
reports.
Ms. Jittra Kongdej, a labour activist who led the protest, told Prachatai that the
unrestrained violence against the protesters in Egypt is a result of the military coup which deposed
Mr. Morsi in July, and demanded that Egypt hold an election as fast as possible.
Coups only
lead to dictatorship, Ms. Jittra was quoted as saying.
She also said the anti-government
protesters in Thailand who had been calling for ?Egypt Model? should learn the lesson from what
happened in post-coup Egypt.