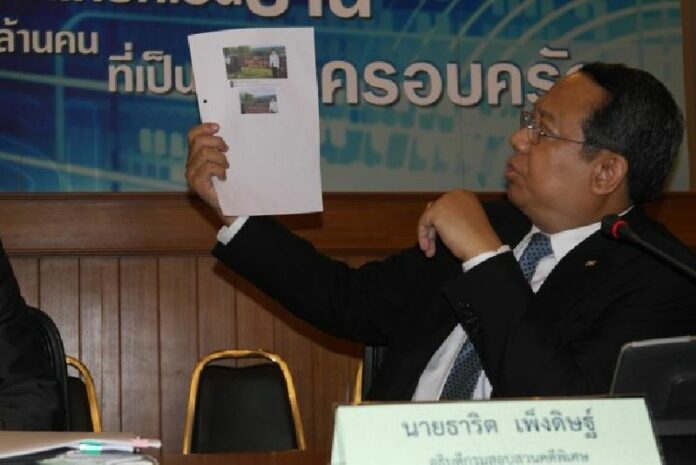 BANGKOK — Senior Democrat Party politicians have criticized the chief of Thailand's Department of Special Investigation (DSI) for mistakenly referring to Prime Minister Yingluck as the "head of state," a title that belongs to the Thai king.
The DSI chief, Tharit Pengdit, was speaking at a press conference about the investigation he launched into a Democrat Party spokesperson who mocked Yingluck in a photo posted on social media.
The Democrat's deputy spokesperson, Mallika Boonmetrakul, edited a photo of Yingluck that originally showed the Prime Minister standing next to a sign in Kui Buri National Park that read "a spot to observe wild elephants and guars." The latter is a wild bison native to South and Southeast Asia.
However, in the photo published on Mallika's Facebook account, the text was changed to "Tiger, Lion, Gaur…?" referring to a Thai idiom, "Tiger, Lion, Guar, Rhino," which is used to refer to promiscuous women.
DSI chief Tharit told reporters the photo's caption amounted to criminal defamation, and warranted a special investigation. In the same press conference, he also incorrectly referred to Yingluck, who is Thailand's first female Prime Minister, as the Kingdom's "head of state."
The Democrats and their supporters, many of whom are staunch royalists, immediately seized on the remark to attack the DSI chief.
Wirat Kanlayasiri, a Democrat MP from Songkhla, called the comment "inappropriate," while over 50 activists gathered in front of the DSI headquarters to express their anger at Tharit.
Baworn Yasinthorn, the leader of the group, called 'Citizens Volunteer For Defense Of Three Institutions,' said the comment was a distortion of the facts and insulting to the monarchy.
After a storm of criticism on social media, Tharit clarified that his reference to Yingluck was "theoretically correct," as the Prime Minister is also the head of the executive branch.
He also said dismissed the allegation that the DSI is disrespectful to the monarchy, citing the DSI's efforts to crackdown those who insult the Royal Family, a crime known as lese majeste that is punishable by up to 15 years in Thailand.