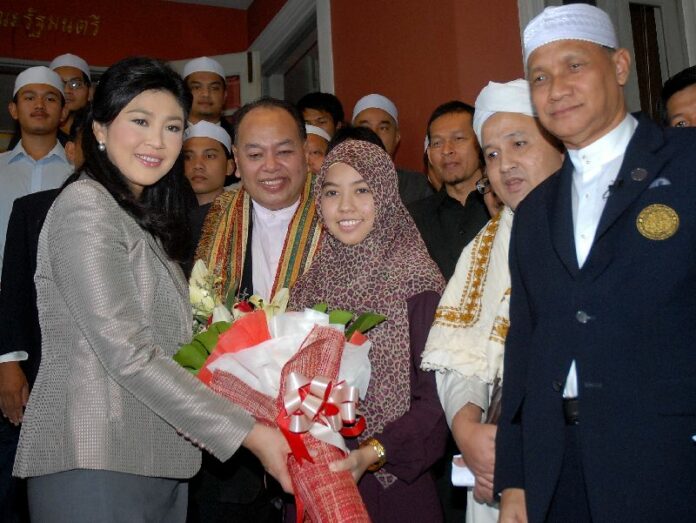 (28 August) The Thai
authorities are looking for replacement education for the Thai students who have been forced to
suspend their study in Egypt and evacuated from the turbulent country.
As most of the
approximately 1,300 students brought back to Thailand are from the Muslim-dominated Southern
provinces, the responsibility to find a new place to study for them rests with the Southern Border
Provinces Administrative Centre (SBPAC).
Pol.Maj.Gen. Tawee Sodsong, the director of SBPAC,
said he had consulted with 8 universities in the southern region for possibility of these students?
enrolment. The evacuated students are expected to remain in Thailand for a long while, the director
said, as the turmoil in Egypt is far from over any time soon.
Finding replacement program for
the students can be difficult as they have differing educational qualifications and do not always
match the standard in place in many Thai colleges, Pol.Maj.Gen. Tawee said, but he added that the
Ministry of Education is working on the matter.
He suggested that the agency might come up
with scholarships for students who had engaged in religious studies in Egypt so that they could
continue their courses in other Islamic nations, such as Jordan or Indonesia.
Although many
educational institutes in Southern provinces accept grades and qualifications the students earned
from Egypt, Pol.Maj.Gen. Tawee expressed his wish that the students would go on to study abroad
because they would have an advantage in learning new cultures and languages.
If they go to
study in Egypt or Jordan, they would continue to practise the language they have learned, the
director said.
Pol.Maj.Gen. Tawee stressed that many of these students profess exceptional
knowledge of the Arabic language. He added that the SBPAC will urgently interview the students to
find out what courses and locations of study they prefer.