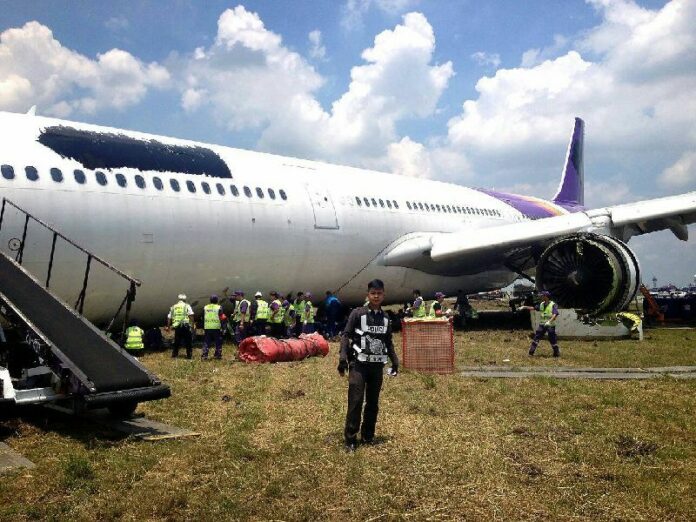 (9 September) Thai
Airway′s Airbus A330-300 slid off runway this morning as it landed at Suvarnabhumi Airport, injuring
14 people.
President of the airline said the situation is currently under investigation. But
it is reported that the plane′s malfunctioned wheels might have caused the plane to slide off the
runway as it touched the ground.
Some passengers were reportedly injured as they were being
evacuated out of the plane.
The airline staff were seen blackening out the logo of Thai
Airways and Star Alliance, the global airline group to which the airways belong, from the doomed
plane.
It is not clear who ordered the blurring, but a Thai Airways official has been quoted
in some media outlets as saying the action follows the guidelines provided by Star Alliance to
protect the company′s reputation in crisis incidents.
Ms. Rawewan Netrakavesna, Suvarnabhumi
Airport General Manager, said that the airport will close the runway and repair it.
The
maintenance of the runway will cause Suvarnabhumi airport to rely on its other runway parallel to
the damaged one, which may cause delay to several flights. The runway is due to reopen on 10
September.
A team from Department of Civil Aviation has been dispatched to investigate the
incident at the scene. The Department is also forming an inquiry committee which will not include
officials from Thai Airways in order to maintain its impartiality, officials said.
The
incident took place in less than two weeks after the Thai airways Airbus A380 hit turbulence at Hong
Kong airport and resulted in the injuries of 20 passengers.