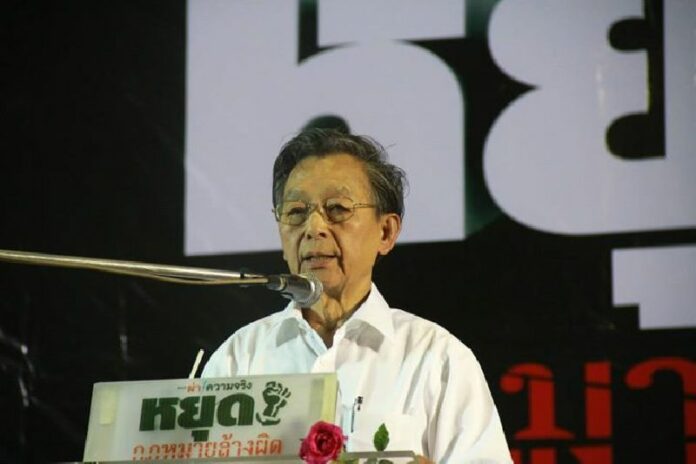 (11 September) Former
Prime Minister and senior Democrat MP Chuan Leekpai said the Democrat Party has chosen to sacrifice
its good image for the sake of opposing the tyrannical power of the government.
Mr. Chuan
spoke to the press after hectic weeks in the Parliament which saw Democrat MPs heckling at the House
Speaker, fist-fighting with the police, and throwing a chair.
A recent opinion poll has
claimed that the public viewed the Parliamentary chaos in negative ways, especially the latest
incident which involved a chair, while a number of analysts warned that the Democrat Party is
risking its long-tended image as a polished political party.
However, Mr. Chuan, who also
serves as a prominent advisor to the party, said his party is viewed as the bad guy because the
public had not followed the Parliamentary debates in their entirety.
They only saw the parts
when troubles happened, like the chair-throwing, but they had not realised how much pressure
[Democrat MPs] had been under, Mr. Chuan explained.
He viewed the chaos as a necessary
method to challenge the power wielded by influential former Prime Minister Thaksin Shinawatra via
his sister, Prime Minister Yingluck Shinawatra.
I acknowledge that what happened might
mislead the public to think the Democrat Party is a troublemaker of the Parliament, Mr. Chuan told
the reporters, But to work in the Parliament without tarnishing the party′s image is to be obedient
like a good kid.
That is not the way of the Democrat Party. We do not want that, he
insisted.
Mr. Chuan added that the Democrat Party is the only group that Mr. Thaksin fails to
control. Although what the party is doing might open it to attacks, but we must inform the public
about the root cause of the situation the former leader said.
He also invoked a speech given
by His Majesty the King as a guideline to stop abuse of power by the government. According to Mr.
Chuan, the King had urged everyone to reconsider what their duties are, and do their best in their
duties, instead of demanding others to perform their duties.
It is like when we hear puu
yai [adults, influential people] saying that corruption is bad, but they end up engaging in
corruption themselves. Or like talking eloquently about democracy but end up buying votes and
cheating elections, Mr. Chuan said.