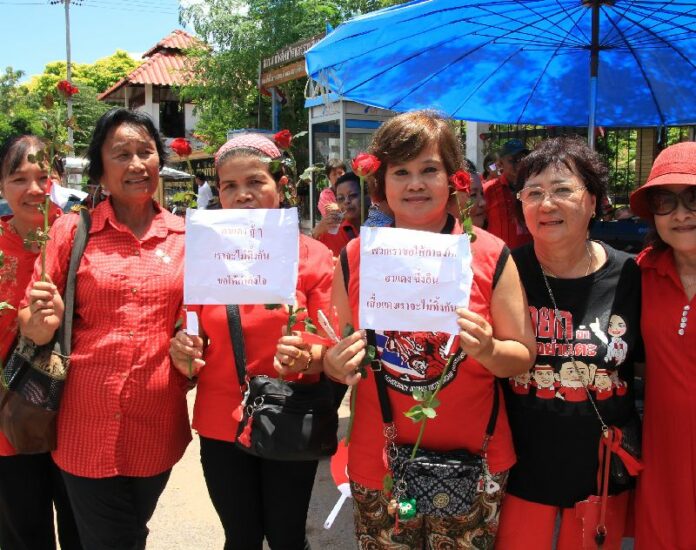 (September 11) A group of
Redshirts have paid a visit to a local leader of the movement who is currently imprisoned for lese
majeste, after the court ruled that her protest against His Majesty the King′s Privy Councillor
amounted to insulting the King himself.
Ms. Paphachanan Ingchan was found guilty of
Section 112 of the Criminal Codes and sentenced to 3 years in prison by the Supreme Court in Nakorn
Ratchasima Province last month.
She was charged with the crime after she staged a protest in
the provice in 2009 in which she burned a coffin bearing the name of Gen. Prem Tilasulanond, the
head of the Privy Council.
The protesters also mockingly addressed Gen. Prem on the coffin
as His Highness, referring to a prominent Yellowshirt leader who had, most likely by accident,
called Gen. Prem with the honorific.
Yesterday, around 100 Redshirts visited Ms. Paphachanan
at Nakorn Ratchasima Central Prison. The group was led by Mr. Tanthawut Taweewarodomkul, aka
Noom Red Nont, who had also been imprisoned for lese majeste and released earlier this year.
Mr. Tanthawut said he understood the predicament suffered by Ms. Paphachanan very well
because he had been locked away for the same offense in a Bangkok prison for 3 years and 3 months.
He told our correspondent that he planned many more activities to raise awareness about
individuals who are serving jail term for lese majeste, which he views as a political, rather than a
criminal, offence.
The Redshirts also had their own music band – called Cold Flame –
playing on the pavement as they gathered in front of the prison. Dozens of police officers and
plainclothes agents stood nearby to observe the event.
Later, Ms. Paphachanan told the
visitors through the prison bars that she felt very grateful for their visit. Even though the case
has reached its finalisation, she said, she insisted she is loyal to the monarchy.
I fell
prey to the political conflict because of my naivety said Ms. Paphachanan, known to her supporters
as he Red Lady, I never had any intention to insult the higher institution, referring to the
monarchy.
She urged the Redshirts to maintain their unity in order to fight for democracy,
and try their best to bring former Prime Minister Thaksin Shinawatra back to Thailand. She also
demanded that the Redshirts? official leadership invest more energy into freeing Redshirts who are
serving jail term for their alleged crimes during the 2010 political violence.
Ms. Sudsawat
Sansern, commander of the prison, said prison regulation exempts Ms. Paphachanan from wearing the
manacles around her ankles because she is over 60 years old.
The commander said Ms.
Paphachanan has a number of underlying diseases, such as high blood pressure, heart-related issues,
and diabetes. Ms. Sudsawat stressed that the prison officials are paying close attention to this
prisoner.
If she is ever ill, she has the right to immediate medical care, Ms. Sudawat
said.
Ms. Paphachanan has also been developing cordial relationships with fellow prisoners,
the commander added.