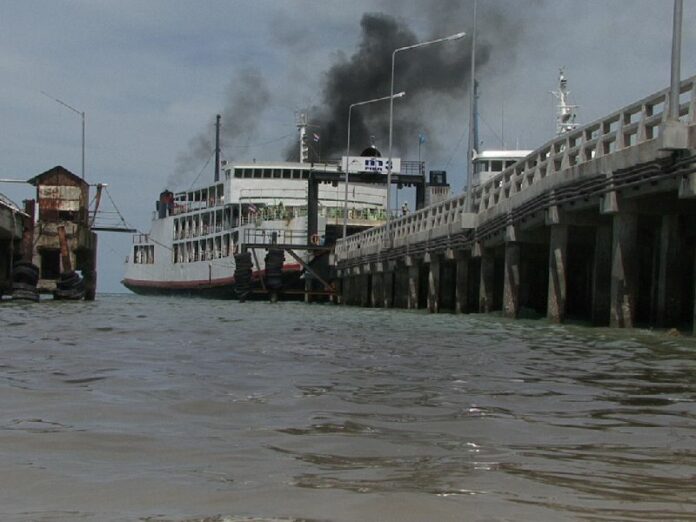 (19 September) Locals,
business owners, and tourists on Samui Island have complained to the authorities about the pollution
caused by the ferry ships around the piers of the popular resort island.
The said pier, run
by Raja Ferry Company, operates ferries from Samui to Surat Thani Province′s Don Sak District in the
mainland daily from 05.00-19.00.
According to the complaints, the ship engines have produced
heavy smog, reeking the nearby area with unpleasant odour. The locals also alleged that residue of
the ship petrol in the smog has tainted the laundry hung to dry by the locals along the houses in
the vicinity.
Ms. Chalard Boonchan, 56, a bungalow owner, said the engine smog is so thick
she can?t identify the ships clearly, especially when the ferries arrive and depart at the pier. She
said she had complained to the company running the pier but no response was given.
After a
number of locals and tourists reported about the issue, Mr. Wannapol Meedej, a local administrator,
met with Mr. Piempridi Silpi, the manager of Raja Ferry′s technical department, in order to find a
solution to the problems.
Mr. Piempridi said the company has been fixing the problems, and
insisted that the engines of the ferries had been regularly maintained. Nevertheless, Mr. Piempridi
assured Mr. Wannapol that he would inform the management of the company about the matter.
Mr.
Wannapol said he has instructed relevant agencies to look into the complaints. Samui is a tourist
attraction selling nature, he said, he tourists are supposed to be happy here. They shouldn?t
have encountered the pollution problems.