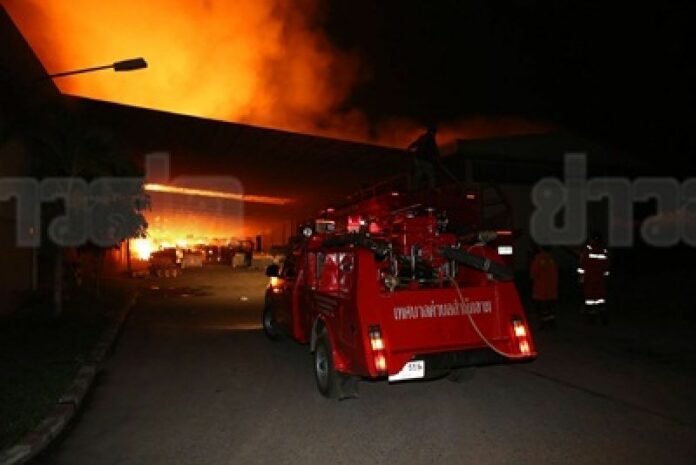 (30 October) A Blaze in Sadao district, Songkhla province, destroyed a carton factory,
Industries (Thailand) Ltd, led by Malaysian owner(s).
Over 10 firetrucks and teams of fire fighters from 5 municipalities
tried to control the fire, and finally succeeded after 6 hours.
Reportedly, the factory′s roof had
collapsed as many flammable chemical substances were stored inside, including 6 big gas tanks, which
exploded intermittently.
No report for injury or death has been generated, as 50 factory-workers managed to escaped
the building before the fire spread. Estimated lost is allegedly summed up to no less than THB 50
million.
Initial investigation revealed that the flame was originated from the chemical substances
storage before spreading to the warehouses.
Further investigate of the incident is currently undergoing by Songkhla police.

For
comments, or corrections to this article please contact: [email protected]
You can also find Khaosod English on Twitter and Facebook
http://twitter.com/KhaosodEnglish
http://www.facebook.com/KhaosodEnglish