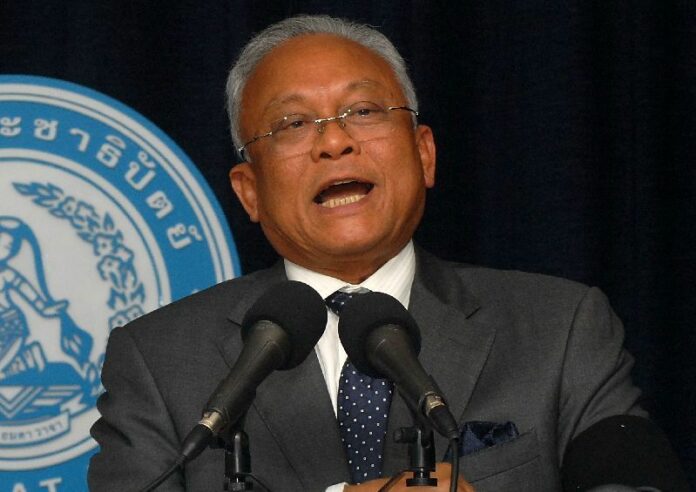 (30 October) Democrat MP representing for Surat Thani province, Mr. Suthep Thuegsuban, called for public support to protest against the draft Amnesty Bill, which will be discussed in the House of Representatives on 31 October.
Four Democrat Deputy Partly leaders had previously resigned from their positions in order to be able to join the protest at Samsen Train Station, which is located outside the restriction of the Internal Security Act, tomorrow.
The Surat Thani representative said that the Phuea Thai-led government had overridden the majority and omitted the minority voice by pushing the bill to be discussed in the lower house.
The Amnesty Bill, which will annulled the penalty for any parties, including former Prime Minister, Mr. Thaksin Shinawatra, and the leaders of the protests, according to Mr. Suthep, will damage the country.
"If we led the Phuea Thai-led government used the majority to proceed with the bill, the country will fall into the stage of dictatorship of the current government, who only wish to protect their own benefits without worrying about the public's wellbeing", said Mr. Suthep.
"Initially, I wish to call for support from everyone to join the protest at Samsen Train Station on 31 October", Mr. Suthep continued, "Officers and Thai people all over the world will join us until the government pull the bill out of the lower house".
Regarding the MPs who had resigned from their Deputy Leader's positions in the Democrat Party, Mr. Suthep confirmed that they will still represent in the lower house to stand against the draft bill.
Mr. Itsara Somchai, former Deputy Party Leader for Northeastern Region, said that the resignations were decided upon his and other deputy leaders' decision, as he and other party members wish to join the protest, but not wanting to fall into the act that may cause the party to be dissolved.
Songkhla MP, Mr. Thawon Senniem, supported Mr. Itsara by saying that because the voice in the lower house was not heard, he and other party members must join the protest. He also said that Democrat party has its long history for more than 70 years, and has become some kind of a political institution. Thus he then wished to protect the party, and quite his administrative position
This morning, prominent democrat member, Mr. Korn Chatikavanij, also announced on his Facebook his intention to quite his deputy party leader position to join the protest as well.