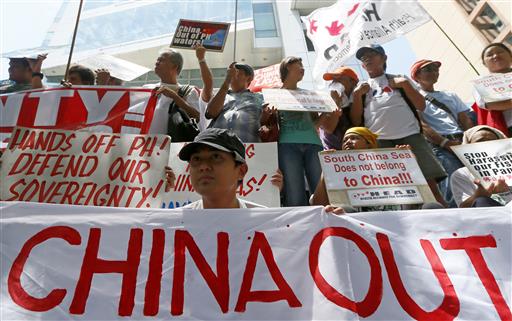 BEIJING  — China blamed the Philippines for stirring up trouble and issued a policy paper Wednesday calling the islands in the South China Sea its "inherent territory," a day after an international tribunal said China had no legal basis for its expansive claims.
"It is the Philippines that has created and stirred up the trouble," Vice Foreign Minister Liu Zhenmin said in introducing the paper.
The Philippines sought arbitration from an international tribunal on several issues related to its territorial disputes with China.
The tribunal in The Hague, Netherlands, rejected China's claims in a landmark ruling that also found the country had aggravated the seething regional dispute and violated the Philippines' maritime rights by building up artificial islands that destroyed coral reefs and by disrupting fishing and oil exploration.
While the decision is seen as a major legal declaration regarding one of the world's most contested regions, the true impact is uncertain given the tribunal has no power of enforcement.
In the new policy paper, China asserts its sovereignty over the South China Sea islands and their surrounding waters and opposes other countries' "illegal claims and occupation."
The paper blamed the Philippines for violating an agreement with China to settle the disputes through bilateral negotiation and said Manila "distorted facts and concocted a pack of lies" to push forward the arbitration proceedings.
New Hope
Still, Liu said, China remained committed to negotiations with the Philippines, noting new Philippine President Rodrigo Duterte's positive remarks on the issue.
"China stands ready to work with the new Philippine government," Liu said. He added that "early removal of obstacles posed by the arbitration case" would help efforts to improve relations.
While the findings cannot reverse China's actions, it still constitutes a rebuke, carrying with it the force of the international community's opinion. It also gives heart to small countries in Asia that have helplessly chafed at China's expansionism, backed by its military and economic power.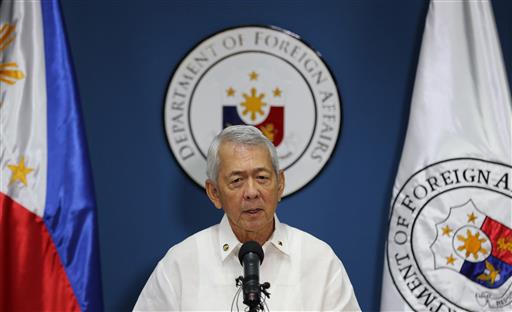 "The Philippines strongly affirms its respect for this milestone decision as an important contribution to ongoing efforts in addressing disputes in the South China Sea," Philippine Foreign Secretary Perfecto Yasay said in Manila, calling on "all those concerned to exercise restraint and sobriety."
Former Foreign Secretary Albert del Rosario, who helped oversee the filing of the case, said the ruling underscored "our collective belief that right is might and that international law is the great equalizer among states."
Del Rosario stressed that it was important for the ruling to be accepted by all.
"For the sake of maintaining international order, it is imperative that the Award and clarification of maritime entitlements be accepted by all relevant countries – without exception – so that we can work together on how remaining issues can be peacefully resolved," he said.
Six regional governments have overlapping territorial claims in the South China Sea, waters that are rich in fishing stocks and potential energy resources and where an estimated USD$5 trillion in global trade passes each year.
The disputes have also increased friction between China and the United States, which has ramped up its military presence in the region as China has expanded its navy's reach farther offshore.
White House spokesman Josh Earnest reacted to the ruling by encouraging all parties to "acknowledge the final and binding nature of this tribunal."
Earnest spoke to reporters aboard Air Force One as President Barack Obama was flying to Dallas. He said the United States was not a claimant in the case and that it seeks a peaceful resolution to disputes and competing claims in the region, while preserving the U.S.'s ability engage in the freedom of navigation and commerce.
Earnest said the White House sees the potential that the tribunal's ruling could aid in the resolution of the dispute in a way that doesn't further inflame the situation. He also urged the parties not to use the ruling as an opportunity to engage in escalatory or provocative actions.
U.S. Defense Secretary Ash Carter said the ruling is an opportunity for everyone in the region to act in a sensible way in accordance with the rule of law in order to settle disputes. Carter spoke at a news conference in Afghanistan where he was meeting with U.S. commanders.
The U.S. State Department called on both parties to comply with their obligations, according to a statement from spokesman John Kirby. The United States has not taken sides in the South China Sea disputes but has worked to ensure freedom of navigation and overflight in the region are maintained.
The Philippines, under a U.N. treaty governing the seas, asked in 2013 for arbitration on a number of issues it had with treaty co-signee China.
The five-member panel from the Permanent Court of Arbitration in The Hague, Netherlands, unanimously concluded China had violated its obligations to refrain from aggravating the dispute while the settlement process was ongoing.
It also found that China had interfered with Philippine petroleum exploration at Reed Bank, tried to stop fishing by Philippine vessels within the country's exclusive economic zone and failed to prevent Chinese fishermen from fishing within the Philippines' exclusive economic zone at Mischief Reef and Second Thomas Shoal.
China, which boycotted the entire proceedings, reiterated that it does not accept the panel's jurisdiction. China "solemnly declares that the award is null and void and has no binding force. China neither accepts nor recognizes it," a statement from the foreign ministry said.
It added that "China's territorial sovereignty and maritime rights and interests in the South China Sea shall under no circumstances be affected by those awards." The ministry repeated China's often-expressed stance that the Philippines' move to initiate arbitration without China's consent was in "bad faith" and in violation of international law.
Australian Foreign Minister Julie Bishop said Wednesday that China's reputation and ambitions of becoming a world leader would suffer if it ignored the South China Sea ruling.
"To ignore it would be a serious international transgression," Bishop told Australian Broadcasting Corp. "There would be strong reputational costs."
Japan's Foreign Minister Fumio Kishida said the tribunal's decision is "final and legally binding" and that the two sides should comply with it. He said in a statement that "Japan strongly expects that the parties' compliance with this award will eventually lead to the peaceful settlement of disputes in the South China Sea."
China considers bilateral talks with the other claimants the only way to address the South China Sea disputes.
It has said vast areas of the South China Sea have been Chinese territory since ancient times and demarcated its modern claims with the so-called nine-dash line, a map that was submitted under the U.N. treaty. Manila brought the case to arbitration because China's claims infringe upon its own 200-mile exclusive economic zone.
The tribunal said that any historical resource rights China may have had were wiped out if they are incompatible with exclusive economic zones established under the U.N. treaty, which both countries have signed.
It also criticized China for building a large artificial island on Mischief Reef, saying it caused "permanent irreparable harm" to the coral reef ecosystem and permanently destroyed evidence of the natural conditions of the feature.
Just before the panel announced its ruling, a busload of Chinese tourists arrived outside the court building in The Hague and joined a handful of other protesters in shouting down three people calling for China to leave Philippine waters. In Manila, dozens of rallying Filipinos jumped for joy, wept, embraced each other and waved Philippine flags after news of their victory. One held up a poster that said: "Philippine sovereignty, non-negotiable."
The aftermath of the ruling could be greatly influenced by new Philippine President Rodrigo Duterte, who took office late last month and inherited a case filed by his predecessor. Duterte has spoken of having friendlier relations with China and said last week his government stood ready to talk to Beijing if it got a favorable ruling. It remains to be seen, however, how far Duterte can stray from Manila's previously critical stance, given his country's growing nationalist sentiment against China's actions.
Story: Gillian Wong and Jim Gomez