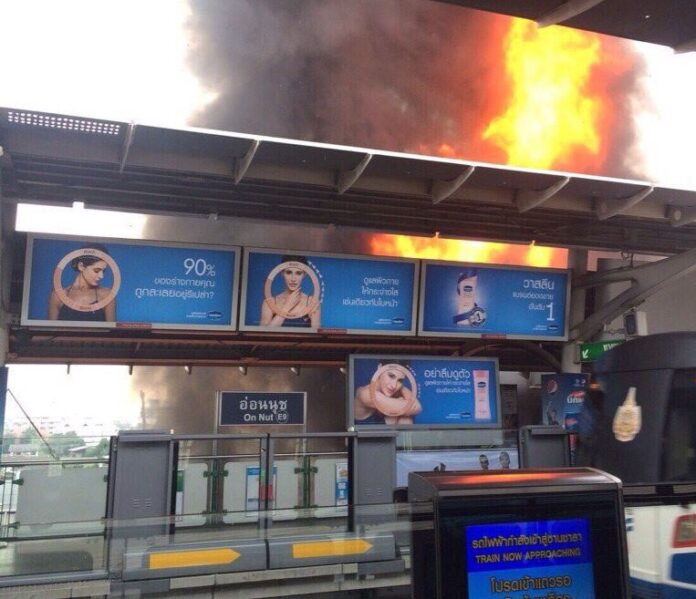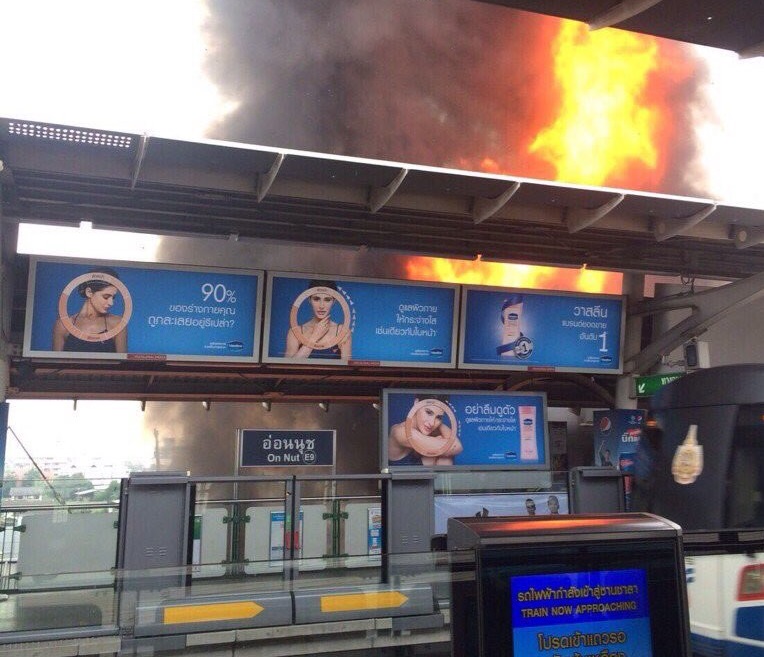 BANGKOK — BTS On Nut resumed service after it was briefly shut down by a raging fire Wednesday morning.
Flames broke out at 7:34am at a shop located in front of Soi Sukhumvit 81 and spread to the station's elevator shaft. The BTS operator said the station was only shut down until 7:55am and has since resumed operation after the fire was brought under control and the smoke cleared.
The fire damaged part of the station's elevator, said Arnat Apapirom of the Bangkok Mass Transit System Public Co. Ltd.
Passengers affected by the temporary closure can seek refunds, he said.
The cause of the fire was still being investigated.
เหตุเพลิงไหม้ร้านค้าข้างสถานี BTS อ่อนนุช ทำให้ต้องประกาศปิดสถานีชั่วคราว / ล่าสุด คุมเพลิงได้แล้ว เปิดบริการตามปกติ pic.twitter.com/72WIQeztbY

— เรื่องเด่นเย็นนี้ (@RDNewsCH3) July 13, 2016
@js100radio ไฟไหม้ตรงบีทีเอสอ่อนนุชจนท.กำลังดับเพลิง pic.twitter.com/dPzcL4EVfX

— ⛿กุเบื่อ (@L_aood1211) July 13, 2016
https://twitter.com/Icekanpirom/status/753027687661174785
07.33 น.เพลิงไหม้ร้านอาหารสุขุมวิท 81 ลามไปที่รถไฟฟ้าบีทีเอสอ่อนนุช ตอนนี้บีทีเอสหยุดให้บริการคุมไฟได้แล้ว #ข่าวปภ. pic.twitter.com/WCfDCO5x9v

— สพฉ. (NIEM_1669) (@NIEMS_1669) July 13, 2016