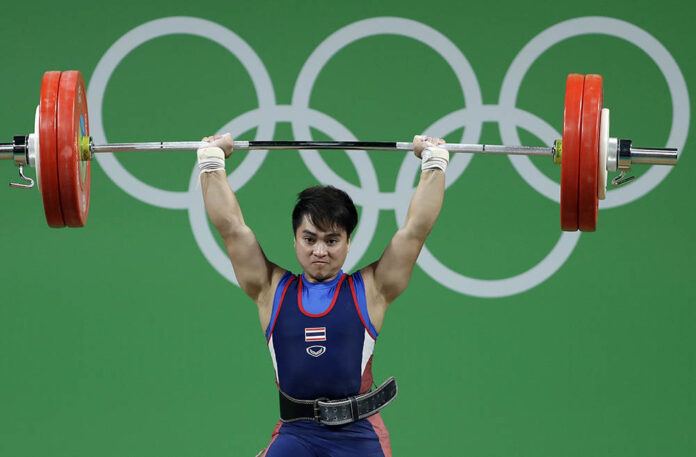 RIO DE JANEIRO — Sukanya Srisurat and Pimsiri Sirikaew gave Thailand gold and silver medals Monday in the women's 58-kilogram class at the Rio de Janeiro Olympics.
Srisurat gave Thailand its second gold medal in women's weightlifting. Sopita Tanasan opened the games with a gold in the 48-kilogram category on Saturday, and Sinphet Kruaithong became the first Thai male to win an Olympic weightlifting medal when he won bronze on Sunday at 53kg.
Thailand has now won 11 medals in women's weightlifting.
"I never thought I could do it," Srisurat said. "This is my first time at the Olympics, so I am very happy to win a gold medal and bring it back to Thailand."
In taking silver, Sirikaew became the third lifter to take multiple medals at 58kg. She also won silver in London four years ago.
"I am so happy to be one of them, because we are representing the Thai people and Thailand," she said of Thailand winning four weightlifting medals. "There are 60 million people (in Thailand). We are happy to be a few of the people who can make Thai people happy."
World record holder Chen Lijun pulled out of the men's weightlifting 62-kilogram class because of leg cramps, which opened the class for Oscar Albeiro Figueroa Mosquera of Colombia to win gold at the Rio de Janeiro Olympics.
Chen pulled out during the snatch round after he found treatment on the cramp to be "pretty useless."
"They tried to massage my leg, it was just not useful," he said. "It has never ever happened before."
Mosquera lifted 142 kilograms in snatch, 176 in clean and jerk and won gold with a total score of 318 kilograms. He was the silver medalist four years ago at the London Games.
Eko Yuli Irawan of Indonesia won silver — one spot better than the bronze he won in London, and Farkhad Kharki of Kazakhstan won bronze in his Olympic debut.
Kuo Hsing-Chun of Taiwan won bronze — giving Taiwan its first Olympic medal in this class. She wasn't pleased with her performance, though.
"I did not do as good as I wanted," she said. "I am very disappointed. I hope I can have a better result in the next Olympic Games. This medal does not meet my expectation, but I will keep doing my best and keep trying going into future competitions."
Srisurat set an Olympic record of 110 kilograms in the snatch on her way to the win. She lifted 130 kilos in clean and jerk for a total score of 240 kilograms.
Story: Janna Fryer