BANGKOK — An art house cinema will celebrate its 12th years with 12 films, including an advance look at the the King of Monsters' latest rampage in "Godzilla Resurgence."
Called "Shin Godzilla" in Japan, it will will show Aug. 28 – a fortnight before it hits theaters Sept. 8. The Kaiju flick is a reboot by the same Japanese studio who made the 1954 original, and it released recently in Japan to rave reviews. Be ready to cower at the show's Sunday matinee.
One of Bangkok's scarce homes for alternative cinema for a dozen years, House Rama RCA will also screen a roster of recent film-buff favorites: Spike Jonze's operating system seduction that is "Her" (2013), Cannes' favorite of 2008 "Tokyo Sonata," award-winning Iranian drama "A Separation" (2011) and "Drive," the 2011 neo-noir thriller starring a young pretty goose.
Miss the recent dystopian, black comedy "The Lobster?" See that too.
Thai films in the program include 2007's "Love of Siam," a groundbreaking film for its frank look at gay teens, and Nawapol Thamrongrattanarit's "36," the conceit of which is 36 fixed shots examining memories in the digital age.
House RCA's special program runs Aug. 19-Aug. 21 and Aug. 26-28.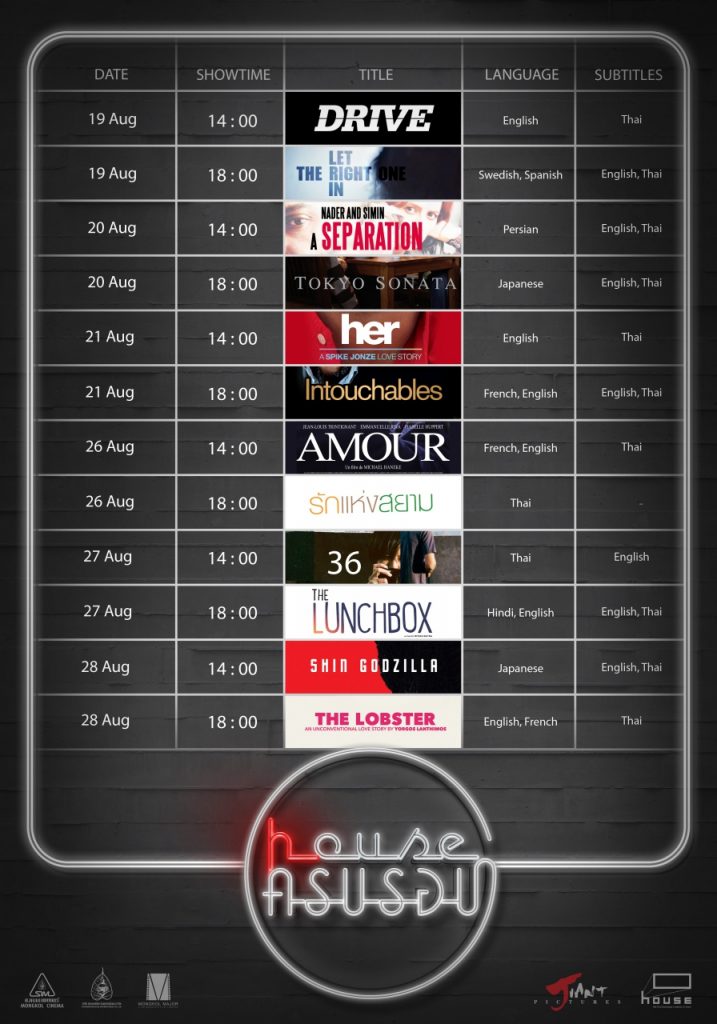 Tickets for each show are 100 baht and can be reserved by telephone only.
The stand-alone theatre is located on Phetchaburi Road. Get there from MRT Petchaburi by taxi or motorbike.