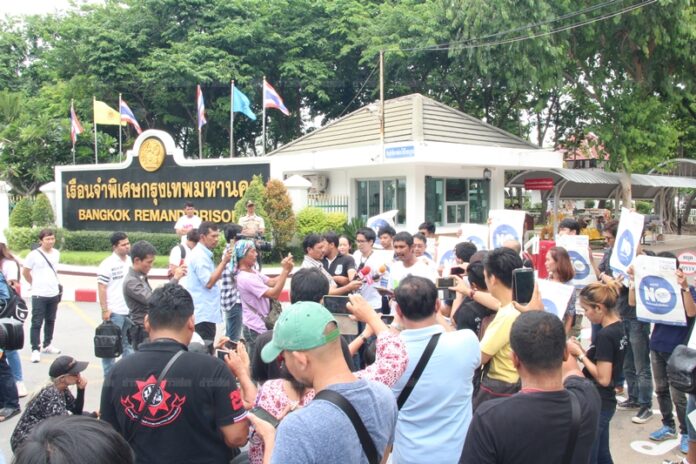 BANGKOK — An elderly man jailed for bathroom graffiti and Redshirt guards from 2010  are among 476 convicts expected to be freed Saturday, according to information reportedly released by corrections officials.
Two weeks after the first batch of pardoned prisoners walked out of the Bangkok Remand Prison, an activist working with prisoners of conscience said Friday that prison officials have posted a list of prisoners to be released at 9am tomorrow as part of a second wave of royal pardons.
"I'm 100 percent certain about the listed names, as they're on the board at the Bangkok Remand Prison," said Ekachai Hongkangwan, who said it was there when he visited the prison in Bangkok's Chatuchak district this morning.
Ekachai, who works with the For Friends Association, posted online Thursday the list of 476 prisoners who received a second batch of royal pardons and will be released at 9am on Saturday.
Earlier this month, he had raised hopes among some loved ones by sharing a list of names he'd obtained, but some of them were not released.
Among the 476 names are two people convicted of insulting the monarchy, a crime known as lese majeste: Phuchit Wongtanarat and Opas Chansuksai. Opas, 69, was jailed for a year and half for writing something on the wall of a mall restroom deemed offensive to the monarchy.
Also to be released is Pornchai Aksornwit, who was convicted of plotting with two other men to blow up major buildings on Silom Road in 2009. Kowit Yaemprasert and Prasong Maneein were two Redshirt guards jailed since the 2010 unrest. Wanlop Ratanarung was convicted of carrying explosives near an anti-government protest site in 2014.
Lists of prisoners to be released are normally posted so their families can come pick them up on the appointed date. However no such list was posted Aug. 12 when a number of prisoners were released, including one of two actors convicted of lese majeste over a 2013 student play.
At the time, corrections officials would neither confirm or deny any further prisoners would be released, saying it would post notice when and if any more were forthcoming.
Ekachai noted that the Department of Corrections has changed its process and now requires inmates be interviewed prior to release about where they will be staying. He mentioned that a third batch of prisoners would follow within two weeks, as they were interviewed Wednesday.
Asked if any women would be released from the women's facility, Ekachai said no list has been posted there. The two prisons follow different systems, he added.
"It's already bad being in the men's Prison, but the women's is worse," he said.
Related stories:
Wait Not Over For Loved Ones of Jailed 'Wolf Bride' Actress