BANGKOK — Those responsible for a bogus news article that triggered Facebook to warn people there had been a large explosion in the capital could be prosecuted under the Computer Crime Act, police said Wednesday.
The false report created alarm throughout the capital Tuesday night and was traced back to a fake news site that routinely takes content from other sites. But a police spokesman said investigators were verifying whether it was a technical error or if someone intentionally created the hoax to instigate unrest.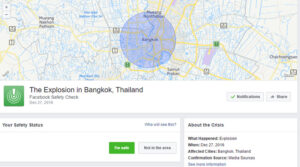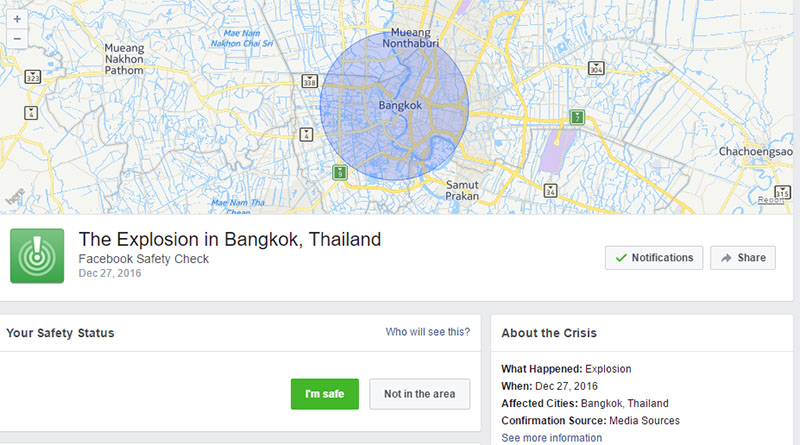 "If it was intentionally created by someone, they will be punished under the Article 14(2) of the Computer Crime Act," said deputy police spokesman Krissana Pattanacharoen.
Update: Facebook Says Panic-Inducing Bangkok Explosion Actually Happened
Article 14(2) of the 2007 law said those who put false information onto a computer which could damage national security or instigate unrest can be punished by up to five years in jail or a 500,000 baht fine.
Read: 'Fake News' Prompts Facebook Bangkok Bomb Scare
The function was apparently activated by an article from a website called Bangkok Informer. The content was a BBC video about the August 2015 bombing of Bangkok's Erawan Shrine. It appeared to have been republished Tuesday.
That republished article was picked up by other automated news sites which use algorithms to write stories instead of people. That triggered  Facebook to activate its Safety Check feature just after 9pm, which began notifying users of an explosion.
Kritsana said the relevant agencies have contacted Facebook to verify the cause of the mistake.
He said police even considered the possibility that it was done by the hackers who have been protesting the revised Computer Crime Act by waging a cyber campaign against the government online.