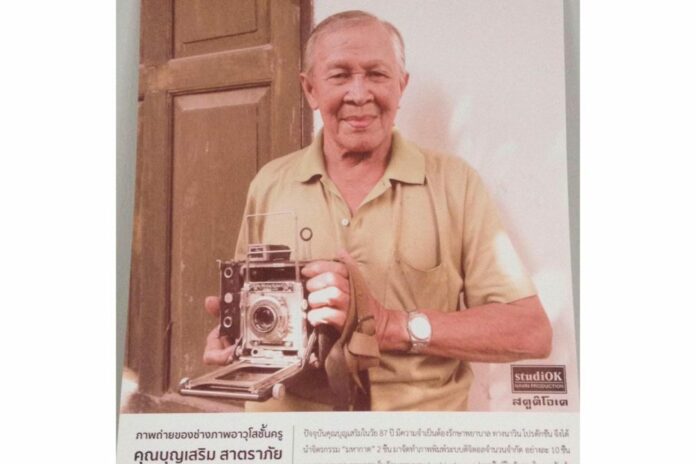 Boonserm Satrabhaya, a photojournalist who captured significant moments and sights of northern Lanna culture, died of heart disease Wednesday in his hometown of Chiang Mai. He was 89.
Through the decades, Boonserm kept his lens focused on Chiang Mai culture and history. Though he was never a household name, many have seen Boonserm's black-and-white images, most notably of Chiang Mai's iconic Nawarat Bridge, residents splashing water during Songkran at Thapae Gate and wagon caravan last seen in Chiang Mai city back half a decade ago.
Boonserm was born March 7, 1928, in a Chiang Mai post official's residence now occupied by a philatelic museum. His mother was Khamfai Jayawanna and his father was Auean Satrabhaya, the province's top post and telegraph officer.
Boonserm took up photography when he was 12. His skills grew during frequent outings to shoot historical sites and later in the company of his brother-in-law, Uthai Sandhidandana, a physician responsible for malaria control efforts in the northern provinces.
It was during those trips Boonserm became acquainted with several journalists in Chiang Mai.
Boonserm photographed His Majesty King Bhumibol and Queen Sirikit when they visited the north in 1958. He shot film and stills of the royal couple in the provinces of Phitsanulok, Sukhothai, Chiang Mai, Lampang, Tak, Nan and Uttaradit, from where they departed back to Bangkok.
Boonserm worked as a photographer for regional newspaper Khon Mueng for 10 years. It was for "Spirits of the Yellow Leaves," his 1960 report on the little-known Mlabri ethnic group in Nan province that won him a top documentary journalism award considered Thailand's Pulitzer Prize.
He moved to work at the Chiang Mai News for over a decade. His collection remains of nearly 3,000 rolls of film, including 8mm and 16mm film reels. Some are stored in the National Archives.
He leaves behind two daughters, Anchalee Koffman and Pavena Abayani, as well his one-time wife Pranee Chunsiri.