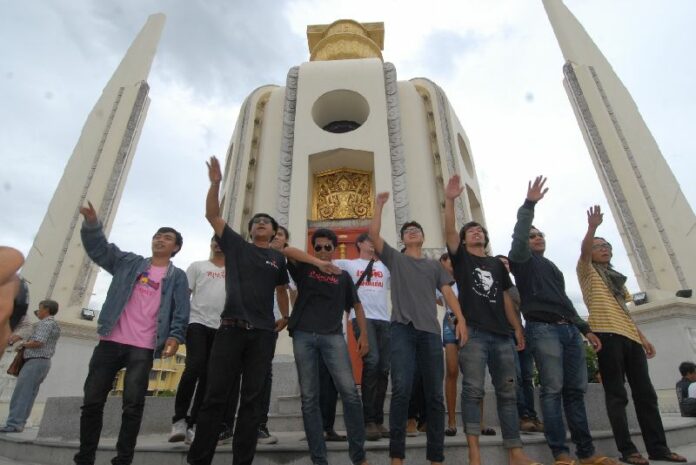 BANGKOK — Pro-democracy activists will gather for Constitution Day at the Democracy Monument to protest the junta's ongoing rule this evening.
Returning power to the people will be the theme of the event, which one of the organizers said is sanctioned by the police but risks running afoul of the junta.
"This event will kick off a dialogue. We're saying straightforwardly that we want to take our rights back," said Nuttaa Mahattana, a TV reporter and pro-democracy activist said in an interview Sunday morning. "In other words, we're gonna start to chase out the junta."
The event will start around 5pm when the group will march from Pridi Court at Thammasat University's Tha Prachan campus to the Democracy Monument. Nuttaa said the activities include performing skits and answering six questions that parody Gen. Prayuth Chan-ocha's questions to the public about democracy.
Nuttaa said the group has informed the police that they would be marching, and local police agreed to supply 200 officers to oversee security of the event.
"We informed police beforehand, in accordance with the right to gather in the constitution," Nuttaa said. "But the junta said that there can't be gatherings of a political nature of five or more people, so the police warned us that we would be risking that too."
Gatherings of more than four people for anything deemed a political purpose have been banned since 2014 when the ruling junta seized power, ostensibly to restore public order.
Occasional protests and rallies have been staged, often at the Democracy Monument, a poignant landmark in the history of Thai pro-democracy movements.
Related stories:
Victims of April 10 Remembered Only on Social Media
Protesters Reject Junta in Mock Referendum on 2nd Anniversary of Coup (Photos, Video)