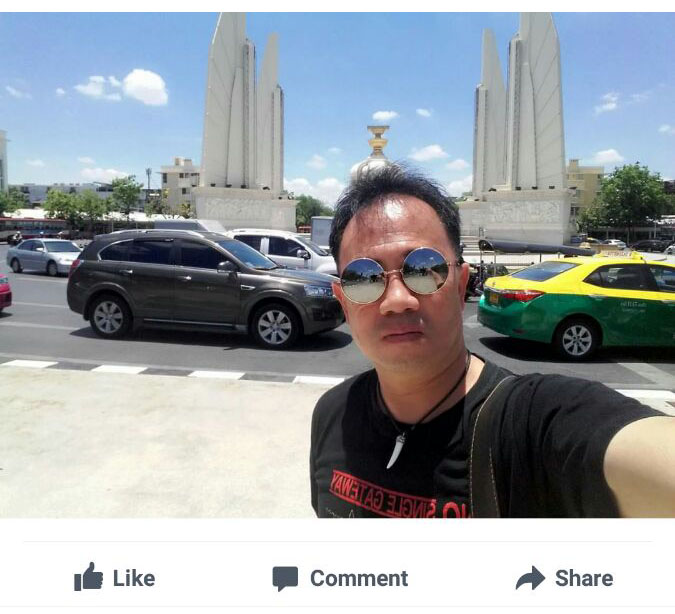 BANGKOK — Seven years later no solemn commemoration, no marker, and, in the present political climate, no formal ceremony was staged to remember 25 lives lost near the Democracy Monument in deadly clashes between security forces, armed militants and protesters.
Instead social media was where people, mostly Redshirts, on Monday commemorated the anniversary of the April 10, 2010, violence which injured hundreds and proved a turning point in long-running protests demanding Prime Minister Abhisit Vejjajiva step down and hold elections.
Twenty-five people – soldiers, civilians and a Japanese journalist – were killed in clashes involving the military and mysterious so-called "Men in Black" centered around the Kok Wua Intersection, just a few hundred meters from the monument. Another 800 were injured.
Monday on Facebook, some used the hashtag #10AprilWhereAreYou while others simply noted recollections or lessons learned. Seven years on, the online remembrance reflects that day's disputed circumstances as well as the unresolved political schism that shows no sign of abating.
"I will never forget nor forgive," vowed Facebook user Love At Aor.
Facebook user Chetawan Thuaprakhon described the violence as "a cruel crime committed by the state" on Facebook.
Sombat Boonngam-anong, a prominent junta critic and leader of the Red Sunday Group, posted Monday about how he severed ties to at least one friend who publicly advocated the use of war weapons against Redshirt protesters.
"I don't count these type of people as friends," he wrote.
April 10 began with the army moving to clear out protesters encamped along Ratchadamnoen Avenue and organized from near the Phan Fah bridge. Soldiers fired on protesters in the afternoon, and that night well-trained forces dressed all in black killed several high-ranking members of the Queen's Guard, including Col. Romklao Thuwatham. That kicked off a chaotic spasm of violence in which civilians, soldiers and cameraman Hiro Muramoto were killed.
Redshirt Noppakow Kongsuwan said Monday morning that he would try to quietly drop by the Democracy Monument if he finished his job early. Seven years ago, he was marching with other Redshirt protesters from Ratchaprasong Intersection, where Redshirts were shifting their operations to, toward Democracy Monument when he heard about the violence. He arrived late, after it was over.
When he arrived, some of the dead were being paraded around and hailed as martyrs while relatives were frantically trying to find out whether their loved ones were among those killed.
Years later, unresolved questions linger. An investigation by the Department of Special Investigation, or DSI, first confirmed that the army shot Muramoto to death. But in 2011, the DSI reversed itself and exonerated the military.
The Men in Black, who for weeks disrupted and terrorized the regular army with insurgency harassment tactics, told reporters just before the final May 19 crackdown their unit was comprised of former and active-duty military. Not long after the military seized power in 2014, five people were accused of being among them. Two were convicted and three kept in jail despite being acquitted.
The deaths of the Redshirt protesters, many of whom had traveled from Isaan, hardened anti-government sentiments and precipitated the month-long occupation of the commercial heart of the capital, radiating out for blocks from Ratchaprasong Intersection at CentralWorld.
But competing opinions and theories from opposite sides of the political divide persist, as does disagreement over the exact sequence of events that April 10.
Noppakow said he hopes the truth will one day be established for everyone to know who was responsible for the killing and who the Men in Black were, exactly.
"It's not wrong [for different sides] to have different sets of memories," he said, adding that only under genuine democracy can the country find the truth about that day emerge.
Yellowshirts and Redshirt critics then as now regard the Men in Black as being dispatched by an armed wing of Redshirt umbrella group United Front for Democracy Against Dictatorship, or UDD.
Although Redshirts widely disavowed the group, some felt they had acted in their defense.
Amnaj Hongsakul wrote on Facebook yesterday that he didn't know who they were.
"But without them many more Redshirts would have died," he wrote.
Exiled former Redshirt leader Jaran Ditapichai wrote from Paris that the incident proved the theory that a regime will fall when a substantial number of demonstrators are killed no longer held true.
Despite the ban and Monday's eerie absence of any ceremony or people at the Democracy Monument, lese majeste fugitive and academic-in-exile Giles Ji Ungpakorn declared the struggle unfinished.
"The mission is yet to be completed," Giles wrote over a photo of a dozen Redshirts celebrating atop of a wrecked armored personnel carrier left by the army after the fatal clashes that night.
Additional reporting and writing Todd Ruiz
Related stories:
'Blackshirt' Suspects Acquitted by Court – Then Returned to Jail
Abhisit and Suthep Acquitted of Murder for 2010 Crackdown
Official Refutes False Quote About Live Rounds In 2010 Crackdown
Democrat Demands New Inquiry Into 2010 Grand Palace Attack
Court Sheds No Light on Japanese Reporter's Death in 2010
Thailand Drops Charges Against Ex-Premier For 2010 Protest Crackdown