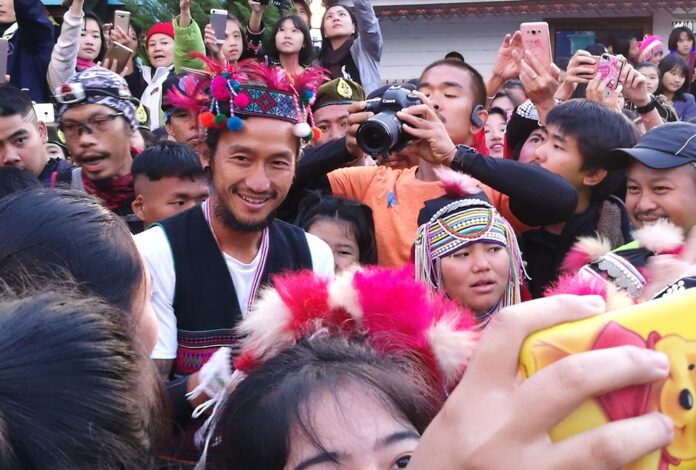 CHIANG RAI — Fifty-five days, 2,191 kilometers and 1 billion baht in donations later, Toon Bodyslam was on the verge of completing his epic charity run Monday.
The Bodyslam rock band frontman turned philanthropist was set to reach the Thai-Burmese border checkpoint in Chiang Rai province's Mae Sai district – the most northern point of Thailand – by day's end, according to organizers. Artiwara Kongmalai started his run in the south two months ago in a bid to raise money for 11 public hospitals.
And raise money he has: Toon blew past his original goal of 700 million baht days ago and has now pulled in over a billion baht from the public for financially struggling state hospitals around the country.
Read: Criticism of Prayuth Over Toon Bodyslam Draws Junta Wrath
By late Monday morning he was taking a break at the Ban Mae Kham School in Chiang Rai's Mae Kham district. Earlier today he was welcomed by a group of hill tribe children at another school in the region.
It's a chilly day in the north. Once the sun sets, Toon will be running in temperatures as low as 17C.
His run has become a national sensation, fueling blow-by-blow media reports on his progress as crowds line the roads to see him pass.
An opinion survey by the National Institute of Development Administration published on Saturday said 56 percent of respondents named Toon the "person of the year," far surpassing the 16 percent who chose junta chairman Prayuth Chan-ocha.
After his run ends, Artiwara is set to return to the music stage. He's scheduled to perform with his band at a New Year's Eve party at the Mega Bangna shopping mall.