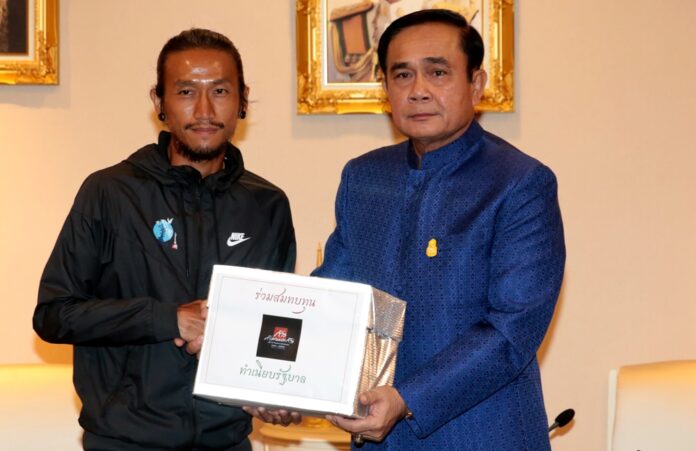 BANGKOK — A junta rep on Wednesday filed a criminal complaint against an opposition party spokeswoman for her scathing post about junta chairman Prayuth Chan-ocha.
The junta's latest retaliation for online criticism was directed at Sunisa Lertphakwat for rhetorically questioning why Gen. Prayuth welcomed a rocker-turned-philanthropist with much fanfare Monday yet turned his back on environmental protesters arrested on the way to hand him a petition.
"Why did Gen. Prayuth refuse to receive a complaint petition from the locals personally?  Instead, he ended up putting them in jail and prosecute them?" Sunisa, a Pheu Thai Party spokeswoman, wrote Monday.

She added, "Is it because Gen. Prayuth saw the southern locals as less human than Toon, who's a famous singer?"

For the post, Col. Burin Thongprapai, who represents the junta in legal cases, filed a complaint with the police cybercrime unit Wednesday, according to a source in the junta who requested not to be identified. Burin reportedly asked the police to prosecute Sunisa for violating the Computer Crime Act and sedition.
Technology Crime Suppression Division commander Worawat Watnakornbancha declined to comment.
"This is confidential information," Col. Worawat said. "I cannot say anything."
Junta spokesman Piyapong Klinpan said Thursday he had not heard about Burin's complaint because he was attending a religious ceremony outside Bangkok yesterday.
Sunisa said police had not contacted her as of Thursday afternoon, and she only heard about the charge through media reports. She added that she's sent a lawyer to the cybercrime unit to find out more information. 
Since coming to power in the 2014 coup, the junta has banned any form of public dissent and routinely silenced its critics – even in the virtual realm – drawing condemnation from domestic and international rights watchdogs.
The junta's popularity appears to be sinking, and a number of missteps have provoked public consternation. In recent months, politicians and online personalities who have spoken out against the regime have been slapped with cybercrime and sedition laws. The latter offense carries a maximum penalty of seven years in prison. Those charged include a Khaosod English staff writer.
On Saturday, soldiers detained a popular Facebooker known for his fiery commentary on social issues after he mentioned the junta's popularity was tanking. He was later released without charge.