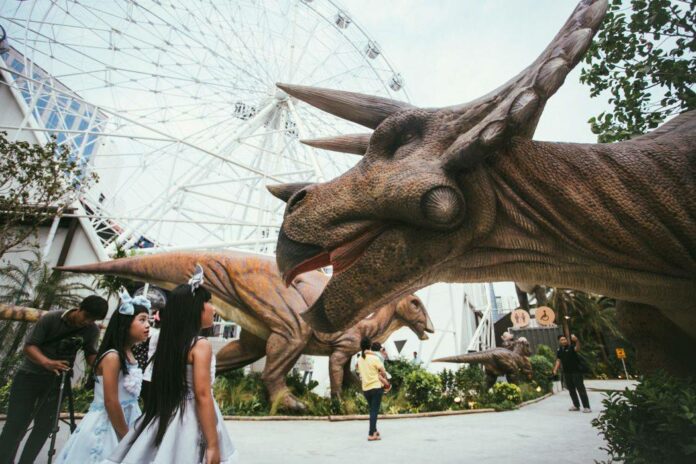 BANGKOK — Two years after it opened, a dinosaur-themed attraction will close to make way for another mall.
A Dinosaur Planet spokeswoman said the attraction, which featured real fossils, animatronic dinos and 3D exhibits will close April 20 to make way for construction of EmSphere, a third mall to join The Mall Group's Emporium and EmQuartier shopping malls.
"When we opened, we rented out the park's land, owned by The Mall Group, for 10 months. Then we continually extended the contract," Sunisa Kumin said Wednesday. "But now, we cannot extend the contract any longer."
Sunisa said the Dinosaur Planet is not closing due to financial reasons, saying it made back its 500 million baht cost in the first 10 months of operation.
"It's still going well today, with lots of visitors. On weekdays we get 7,000 to 8,000 visitors per day," Sunisa said.
And where will the rubber animatronic dinos and life-size giants go?
"Lots of investors are interested in buying them to put in their own zoos and parks, like in Korea, Taiwan, Vietnam and Malaysia," Sunisa said.
Dinosaur Planet is located 400 meters from Emporium and EmQuartier, next to Benchasiri Park on a 12,000sqm lot between sois Sukhumvit 22 and 24. It opened March 25, 2016.
The park is open 10am to 8pm. Tickets for 600 baht for adults, 400 baht for children (90 centimeters to 140 centimeters) and free for smaller children.