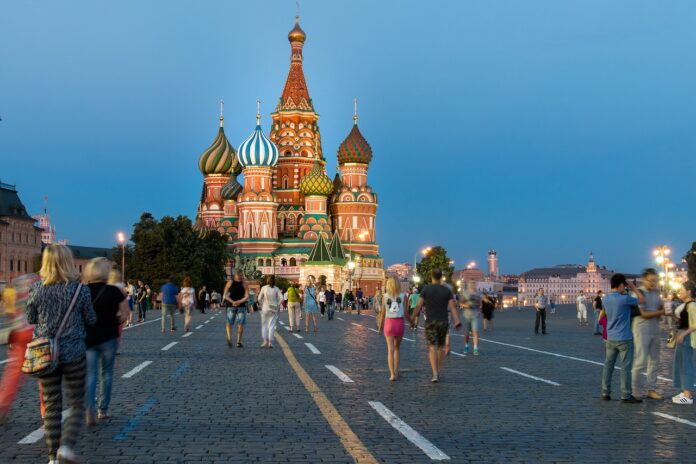 BANGKOK — Five years ago tomorrow, Khaosod English published its first story. Since that first gripping account of Thai lady aged 102 loves Thai dance, we've made a few changes.
In addition to using capital letters in headlines, we've staked out a place as an independent voice, dropped a slick new site, amazeballs videos, live blogging, interactive digital stories, virtual reality, a podcast and more. Things none of our competitors can brag about as we seek new ways to tell stories rooted in excellent, traditional journalism.
Innovation. It's not just a word on a whiteboard anymore.
And now? Now, we're doing it again. (Ed. note: innovating, that is.)
After bringing Khaosod from Thai to English, we're bringing the same quality Khaosod English journalism to other languages, starting with Khaosod English Russian.
Expensive market research (Ed. note: We asked a guy.) has found fewer of you than ever are interested in reading and prefer to just have things read to you. So rather than publishing multiple versions of stories, you can find Khaosod English Russian embedded in every story with (RUS) in the headline.
Here's a demonstration of how it will work. Enjoy.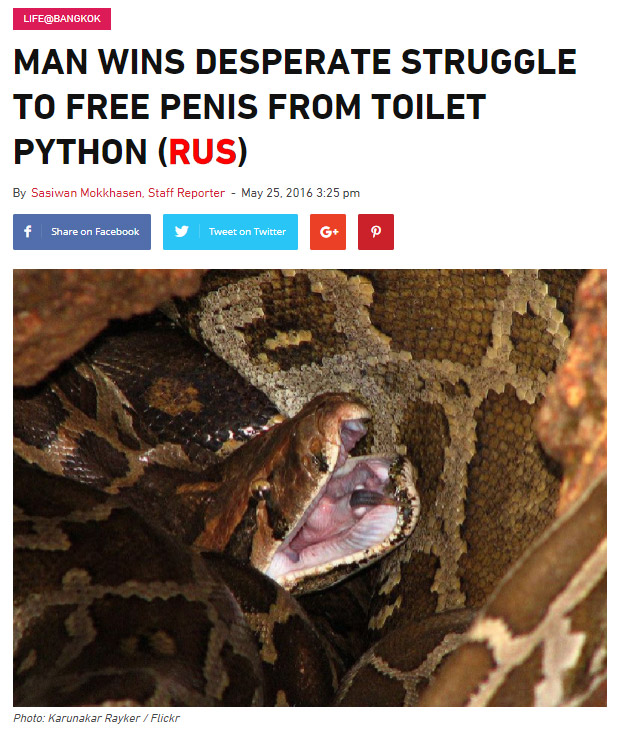 This is a Khaosod English Russian audiostory. Listen … in Russian!
Translated by Vladislav Igorevich Sharuda
CHACHOENGSAO — It was less than a good morning for Atthaporn Boonmakchuay today. Not after a python slithered out of his squat toilet, bit his penis and refused to let go.
Atthaporn, who just regained consciousness, spoke from his hospital bed Wednesday afternoon to recount the ordeal he experienced in the bathroom of his home east of Bangkok in Chachoengsao province, which he'd entered for his morning routine of a shower and protracted bowel movement.
Atthaporn said he had just squatted over his toilet for his usual 30 minutes of morning business, according to Khon Khao Bang Pakong, when the python rose from the depths to fasten its jaws around the end of his penis.
As his wife Sawittree Shooyoung would tell Thairath, that's when she heard him scream for help and call for a rope. Entering the bathroom, Sawittree found her bleeding husband fighting with the nearly 4-meter long python. She gave him the rope as requested.
Just before he passed out from loss of blood, Atthaporn grasped the serpent by its head and managed to use the rope to tie it to the bathroom door.
The 38-year-old man was taken to a nearby hospital, while rescue workers were left to deal with the rampaging reptile, whose body was still mostly stuck in the squat  toilet.
Workers removed the toilet from the house, at which point they took a hammer to it to free the body of the beast.
Atthaporn is in stable condition. Flanked by grinning doctors, he told reporters that he was careful to unhinge the reptile's jaws rather than forcing it free and risking permanent damage to his self.
Authorities suspect the python entered the home through a pipe that led it into the toilet. It will be released back to nature, Thairath reported.