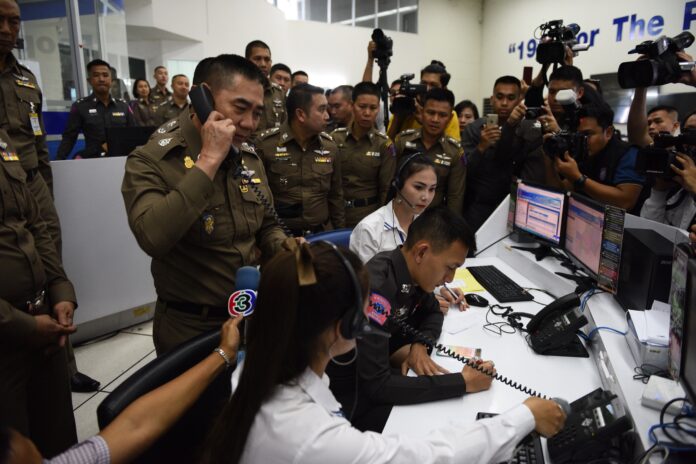 BANGKOK — The police chief announced Wednesday a plan to improve urgent response services nationwide by merging all emergency lines to one hotline number.
Gen. Chakthip Chaijindra said a new national emergency service center to begin operating in two to three years will combine the current dozens of emergency lines to 191.
"I'd like the 191 center to be able to immediately respond to all distress calls, whether for crimes, fires or accidents," Chakthip said. "Here they have a lot of highly experienced officers. They'll be able to reach the people much quicker."
He said the new system would result in response times of 15 minutes at most.
The new system will incorporate all relevant sectors for quicker emergency responses, not only police, rescue and medical services, but also the tourist and traffic bureaus.
Chakthip said service would be available in English and for the disabled.
Chakthip acknowledged public distrust of the current 191 service – accused of being unresponsive and even unavailable – blaming it on the amount of daily prank calls they receive.
"They get such calls 14,000-15,000 each month, approximately 100,000 calls a year. It's such a waste of time since they keep the line extremely busy, and people who are really in trouble won't be able to get through at the end."
Chakthip said authorities would up their efforts to charge pranksters to discourage hoax calls.
He said the current system, in place since 2000, lacks the appropriate technology, with outdated maps and old equipment suffering frequent breakdowns, making it more difficult for call centers to identify locations, verify the credibility of incidents and contact first responders.
He said the government has allocated a budget to improve the operating system, including new GPS services to identify callers and a support for conference calls to all related agencies.