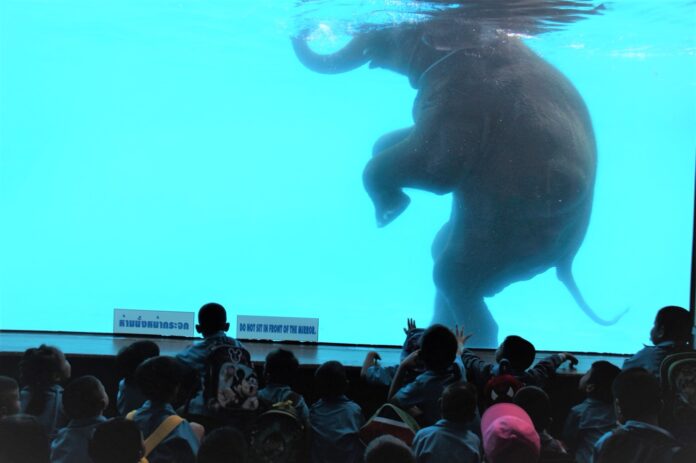 CHONBURI —  A young elephant walks on its hind legs and swims in a glass tank to the delight of a crush of students watching and cheering.
To the animal rights advocates who yesterday posted a video of the swimming elephant, it was cruelty. Today the director of the Khao Kheow Open Zoo defended the spectacle as an innocent form of exercise.
"The show is considered exercise for the elephants. Normally they go into pools to play with water anyway," said zoo director Attaporn Sriheran. "The zoo then designed another pool for the elephants to swim and at the same time allows children and visitors to learn about their behavior as well."
Animal shows were held as usual today at the zoo located southeast of Bangkok in Chonburi province, despite being criticized by the Los Angeles-based animal advocacy group the day before in a one-minute clip that drew broad criticism on the internet.
"The #KhaoKheowOpenZoo in #Thailand. Elephants forced to swim, ridden & prodded by a mahout," the tweet read. The outlet urged viewers to contact TripAdvisor, the crowdsourced ratings service, to stop promoting the major zoo for animal cruelty.
As of Tuesday afternoon, the video had been watched more than 127,000 times and retweeted more than 1,600 times.
The #KhaoKheowOpenZoo in #Thailand. Elephants forced to swim, ridden & prodded by a mahout. Tell @tripadvisor to stop promoting cruelty! 📞 781.800.5000, e-mail👉[email protected] Tell Khao Kheow Zoo to stop abusing elephants 📞0116638318444, e-mail👉 [email protected] 🌍#WAN pic.twitter.com/W6Uj0y1loa

— World Animal News (@WorldAnimalNews) August 27, 2018
Attaporn said claims the elephant was hurt by a mahout were untrue, and that the show involved normal elephant activity.
He then said elephants and mahouts are like "bread and butter," and take care of each other. Animal rights groups such as PETA say conditioning captive elephants to perform requires physical abuse to break their spirits.
Attaporn also criticized World Animal News for "damaging Thailand's reputation" by reporting the story.
The zoo's elephant swimming show started in 2016 with two daily performances. It's promoted on its website as "the most perfect exhibition which can compare with world standard."
Animal-based attractions are big draws for domestic and international tourists, but with little regulation, are tainted by reports of mistreatment. Most famously, a tiger petting zoo in Kanchanaburi province was raided and forced closed two years ago, with the monk leading it implicated in animal trafficking.