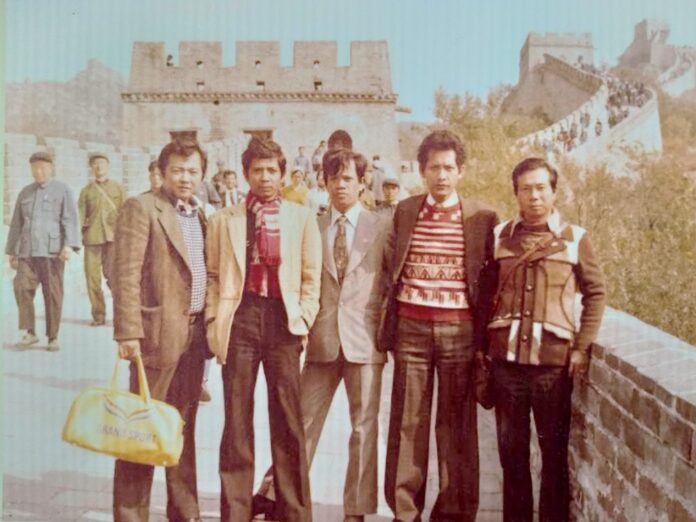 BANGKOK — Wanwai Phathanothai was 12 when he was told to prepare to go study in the West. It was 1956 at the height of the Cold War which pit Thailand against the spreading flames of Communist upheaval spreading throughout the region.
It was just days before his departure that his father, who served as an advisor to the prime minister at the time, revealed his true destination: Wanwai was going to China, the backwater Communist state that Thailand had cut ties with seven years earlier during the Red Scare.
It turned out to be no ordinary visit. Wanwai and his sister, 8, were to be held as hostages by the Chinese while Thai officials embarked on a secret mission to reopen relations. They would end up staying there for 13 years, living under the protection of Premier Zhou En Lai as his adopted children.
"I have to give credit to my mother. If my mother didn't let me go, if she told my father to divorce her and have another child of his own to serve as hostage, the mission might not have succeeded," Wanwai said at a panel discussion Thursday.
Wanwai spoke alongside other figures who played key roles behind Thailand's historic decision to formally revive ties with China in 1975. The panel was also a kickoff for an exhibition at Baiyoke Sky Hotel that highlights the complex relationship between the two nations.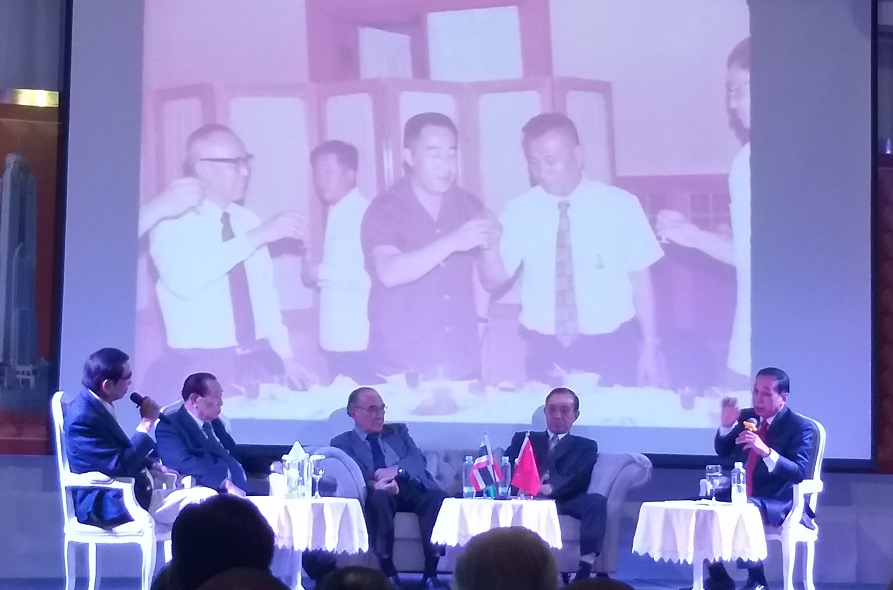 The exhibit features royal and Buddhist artifacts made by Chinese craftsmen, showing a long history of cultural connection dating back hundreds of years.
There are treasures like a set of benjarong, or traditional Thai porcelain bowls King Rama V commissioned from China – only Chinese artists knew how to make them in the jade color desired by the monarch.
On another shelf sit rows of amulets, some cast in pure gold, made by diaspora craftsmen that settled in Thailand and adopted the local faith. The back of each is imprinted with the owner's clan name in Chinese characters. They were all personally blessed by Somdej Toh, a renowned monk whose magical charms are now worth millions.
Hot and Cold History
But colorful relics are only half the story. Glittering displays are accompanied by photographs that mark the key milestones in the long and difficult road to reconnect the two countries.
Bangkok cut ties with Beijing in 1949 after Mao Zedong took power over the wartorn and impoverished nation. As an ally of the United States, Thailand set itself as a bulwark against Red influence in Indochina and passed a law that banned any action that aided Communists, including unsanctioned travel and contact with China.
Wanwai's father, Sang Phathanothai, was an ardent anti-Communist, like his boss at the time, Prime Minister Plaek Pibulsongkram. But Sang soon came to recognize China as a potential superpower that Thailand should seek friendship with, instead of relying solely on the Americans.
"He believed that one cannot draw water from faraway to douse fires that start close to home," Wanwai said at Thursday's event. "He changed from hating the Chinese to finding a way to befriend them."
And so, with Plaek's approval, Sang paved a way for that friendship and sent his own children as a guarantee of his goodwill. The mission had to be kept secret, lest it drew fury from the American allies and conservative factions back home.
But Plaek was later overthrown by Sarit Thanarat, a military despot whose anti-Red campaign saw dozens jailed or executed for the most remote connection to the Communists. Sang himself was caught in the purge and imprisoned, stranding Wanwai and his sister Sirin in China.
Opening the Door
It was only after Sarit's successors were ousted by a popular uprising in 1973 that Thai officials give it another try.
A task force was formed for the mission. They include diplomat Anand Panyarachun, who used his post as Thai ambassador to the UN to open dialog with his Chinese counterpart, and a junior official called Don Pramudwinai, who flew to Beijing with an advance party. Don now heads the Foreign Affairs Ministry.
By that time, the climate of geopolitics in the region was changing. In 1972, US president Richard Nixon stunned the world by his surprise visit to Beijing, leading to a thaw in the relationship between the two superpowers.
But even before the officials got to work, a Sino-Thai businessman got into the game first. Lenglert Baiyoke, the late founder of hotel chain Baiyoke Group, was convinced he had to take action to earn the Chinese trust.
He managed to negotiate sales of cheap petroleum from China. Later, when Chinese invited Thai athletes to compete in a badminton tournament there, Lenglert and his friends pooled in money to pay for their travel. The Thai government had refused to sponsor the trip.
"I was so frightened because all I knew about China was from posters on Ratchadamnoen Avenue," Weerapot Phumiphuti, one of the invited athletes, recalled at the panel. "They showed hammer and sickle dripping in blood. The Chinese were demons cutting off people's heads."
Like "ping-pong diplomacy," sports provided a safe harbor for rapprochement until a fateful day in July 1975, when Prime Minister Kukrit Pramoj traveled to Beijing to shake hands with Chairman Mao and announce the resumption of Thai-Chinese diplomatic ties.
Wanwai said Premier Zhou, then 76 and bedridden for days at home, defied doctor's orders and returned that day just to witness the signing ceremony.
"If you remember that day, he could barely walk. That was because he had swollen feet." Wanwai said. Zhou died the following year.
Ties That Bind – How Tight?
As the exhibition shows, Thailand and China are enjoying unprecedented levels of cooperation. Chinese engineers are set to build Thailand's first high-speed railway, trade values between the two reached 80 billion USD and Thai authorities predict 10 million Chinese tourists will have visited the kingdom by the year's end.
Forty-years after the relations were rekindled, China also transformed itself from an isolated country whose population lived in abject poverty to an economic and emerging military superpower that inspires both admiration and unease in the region.
This has led some analysts to fear that Thais will pay for their over-reliance on China, which has been accused of bringing country after country to heel through its debt empire. In neighboring Malaysia, similar investment and infrastructure deals were immediately halted following the election of Prime Minister Mohammed Mahathir.
China scholar Wasana Wongsurawat has warned that Chinese businesses are planning to take over hotels in Chiang Mai and Phuket. Last week, the government said it's considering a law to allow Chinese e-commerce giant Alibaba to own properties on the eastern seaboard, raising concern of Chinese dominion.
Speaking at the exhibition's inaugural event, Guan Mu, a former ambassador to Thailand, urged the two countries to look beyond differences and occasional pitfalls to forge even closer ties.
"Even siblings fight with each other, what would you expect from countries? Conflicts and difference are normal," Guan said in Thai.
"Precious Ancient Chinese Buddhist Arts" is held on the 77th floor of Baiyoke Sky Hotel. It opens 10am to 10pm everyday and runs through Dec. 22. Tickets cost 400 baht and come with an access to the rooftop observation deck.