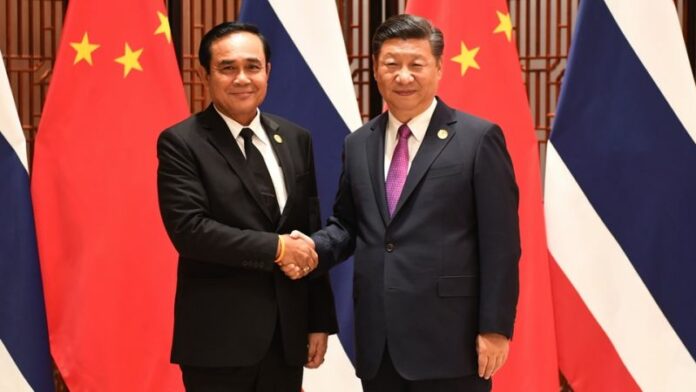 BANGKOK — The first batch of Chinese personnel has won licenses to build Thailand's high-speed railway, the Council of Engineers announced Monday.
Although the law requires engineers to be Thai nationals holding valid council licenses, the junta chief used his absolute authority to exempt the Chinese workers in June. It enabled 400 engineers from China to take part in the construction of the 253 kilometer span between Bangkok and Nakhon Ratchasima province if they attended a training course and passed a special exam prepared specifically for them.
After four days of training organized by the Thai Council of Engineers in Tianjin, China, the first 77 engineers all passed the test. The Chinese engineers were required to score at least 60 percent on the two tests: one on law and ethics and another of technical considerations and local conditions such as geology.
Council secretary Amorn Pimanmas said the license would allow them to work only on the first phase of the project to Nakhon Ratchasima which is expected to commence in November.
Three more training sessions and tests will be held in China for the rest of the engineers.
The Architects Council is also due to provide training and testing for Chinese architects this month.
The decision to circumvent the law to permit China to staff the project with its own workers, along with other concessions, has been controversial.
In early September, Prime Minister Prayuth Chan-ocha signed four agreements with China during his trip to attend BRICS summit in Xiamen. Of the project's 179 billion baht price tag, 43.7 billion baht will go to China to build 253 kilometers of rail.
Related stories:
Prayuth to Sign High-Speed Railway Contracts in China Next Week
Govt Approves 179 Billion Baht for Controversial High-Speed Railway Project
Junta Pilloried for Handling of Rail Project at Forum
Did Thailand Get Railroaded by the Chinese? No Way, Govt Says
Junta Exempts Chinese from Thai Law to Build Railway
Junta to Sidestep 5 Laws to Move Stalled Railway Project
Prayuth Asked to Use Absolute Power to Let Chinese Build Railway
Work on 1st Small Stretch of High-Speed Rail May Soon Begin
Construction of Thai-China Railway to Begin 'Before Year's End'