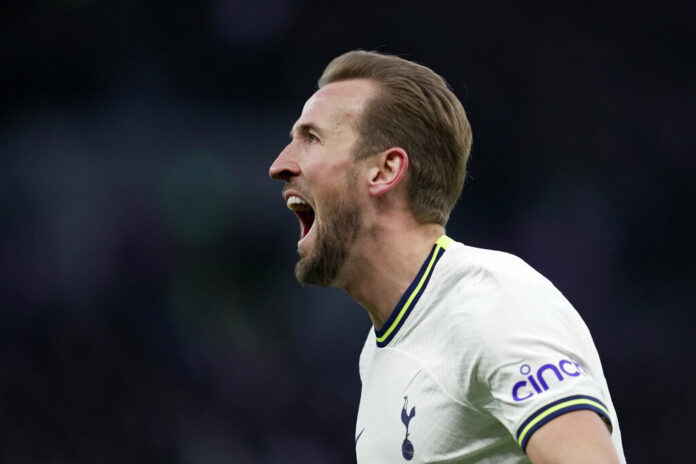 LONDON (AP) — Harry Kane became Tottenham's outright all-time leading scorer with his goal winning 1-0 against Manchester City in the Premier League on Sunday.
The England captain's milestone strike earned Tottenham a 1-0 win Sunday over Manchester City, which was looking for a victory to trim the gap to Premier League leader Arsenal to two points.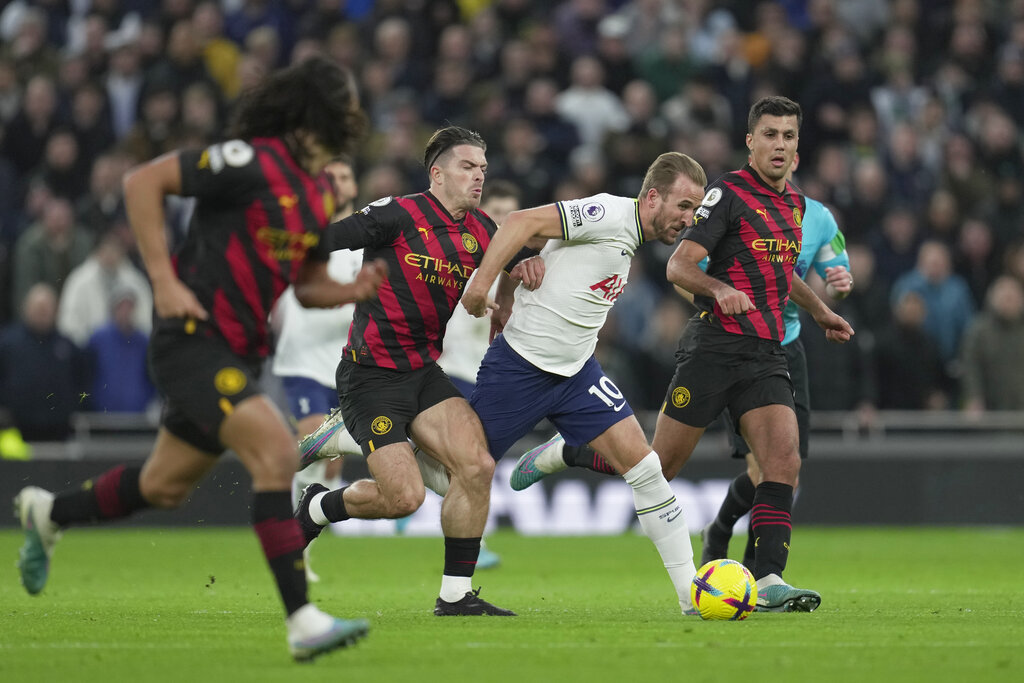 It was the England captain's 267th goal for the club — one more than the late Jimmy Greaves, who played for Tottenham from 1961-70.
Kane scored his first goal for Tottenham in December 2011.
He now has 200 goals in the Premier League, only the third player to do so after Alan Shearer (260) and Wayne Rooney (208).
EVERTON STUNS ARSENAL
Victory for Everton on Saturday was its first in any competition since October and ended a 10-game winless streak.
That run led to the sacking of manager Frank Lampard last month and the appointment of Dyche in a desperate bid to avoid relegation.
After 69 years in the top-flight, there is a lot riding on Everton's latest managerial hire, which already looks like shrewd business.
"It's a start point. That one (win) doesn't guarantee the next one," Dyche said. "The way they have taken ownership and pride in what we have tried to do this week, I value that."
Arsenal lost for only the second time in the league and will see its lead cut to two points if City beats Tottenham on Sunday. But the London club will have a game in hand.
Newcastle, however, failed to take full advantage of Arsenal's loss when it was held by West Ham to 1-1.
MISERY FOR LIVERPOOL
Liverpool's season is unravelling after a seventh league loss makes a bid for Champions League qualification look increasingly unlikely.
Wolverhampton inflicted the latest blow to a team that was chasing an unprecedented quadruple of trophies last term. A season later, and after one win from its last seven games in all competitions, Liverpool is searching for answers.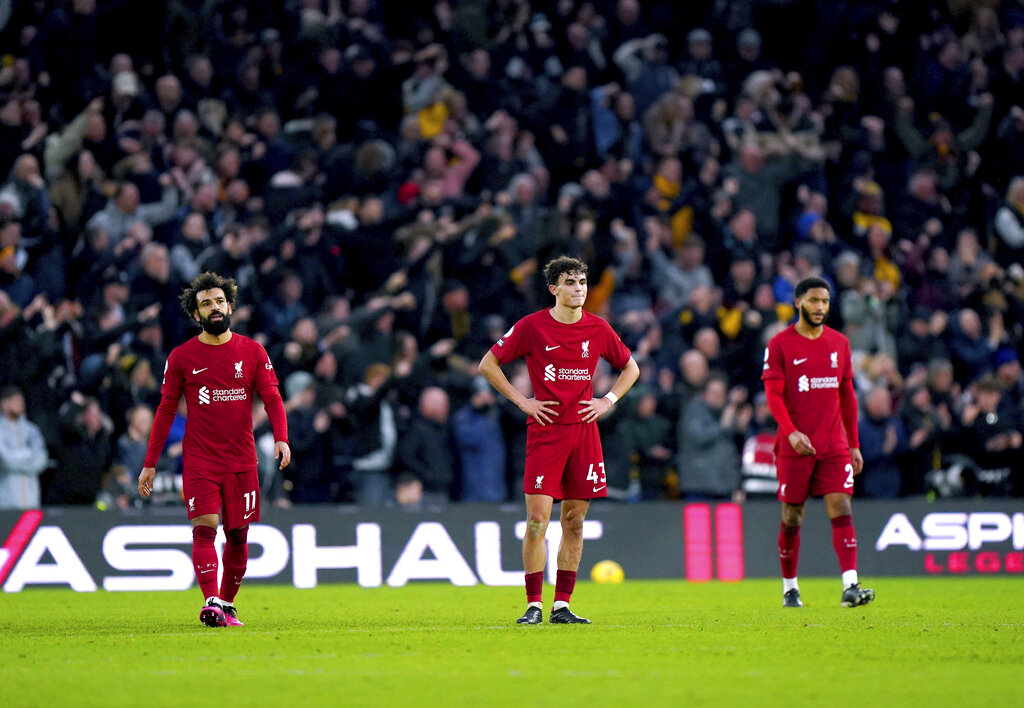 "We better change it. That's true, 100%," Klopp said. "I have no words for it really, I'm sorry."
CASEMIRO SEES RED
Manchester United beat Crystal Palace 2-1 at Old Trafford and was eight points behind the leader having played a game more.
However United has seen the heart of its team torn apart in the space of a week after Casemiro was sent off on Saturday just days after Christian Eriksen was ruled out for most of the rest of the season through injury.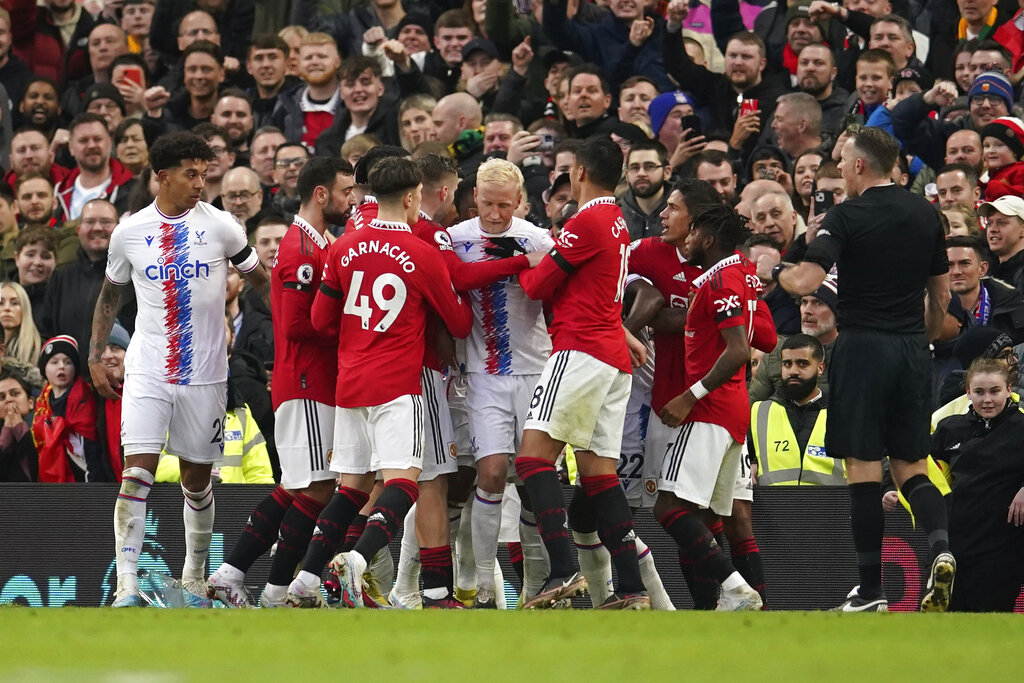 Erik ten Hag's rebuild, which has seen United reach the final of the League Cup and a league title challenge reignited, has been heavily reliant on his overhaul in midfield.
But Casemiro will be suspended for three games after being sent off for violent conduct when putting his hands around the neck of Palace midfielder Will Hughes.
How well Ten Hag patches up his team while Casemiro is absent could be crucial to United's chances of chasing down Arsenal.
______
All Results this Weekend
Everton 1-0 Arsenal
Aston Villa 2-4 Leicester
Brentford 3-0 Southampton
Brighton 1-0 Bournemouth
Manchester United 2-1 Crystal Palace
Wolves 3-0 Liverpool
Newcastle 1-1 West Ham
Nottingham Forest 1-0 Leeds
Tottenham 1-0 Manchester City