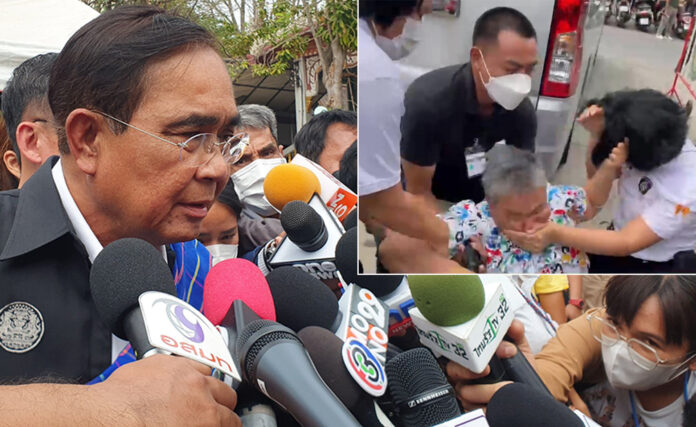 Prime Minister General Prayut Chan-o-cha on Monday defended the actions of officials who dragged a female away after she voices her dissent against PM shortly before his motorcade was expected to pass by in Ratchaburi province.
"How was it violent? I didn't see. How was it violent?" Prayut replied when asked by reporters, adding that anyone who breaks the laws will be dealt with and that there were only three protesters while "10,000 people" came out to welcome him.
One official can be seen trying to cover her mouth, while another used an umbrella to block cameras while one man shouted, "handle carefully. It's not good optics"
Police say they were trying to "take the woman to hospital." It remains unclear whether the woman is under custody or any charge has been pressed against her. PM Prayut is in Ratchaburi province to visit development projects in Ban Pong district.
On the way out, Prayut lowered the windshield of his limousine and then told reporters not to ask about the issue again because it's only about three people and not ten thousands whom he's trying to serve. When reminded by reporters not to be mad, Prayut said he wasn't angry.
An elderly female anti-Prayut protester was dragged away by security details from a rally site where PM Gen Prayut Chan-o-cha was visiting Monday at Ratchaburi province's Ban Pong District.