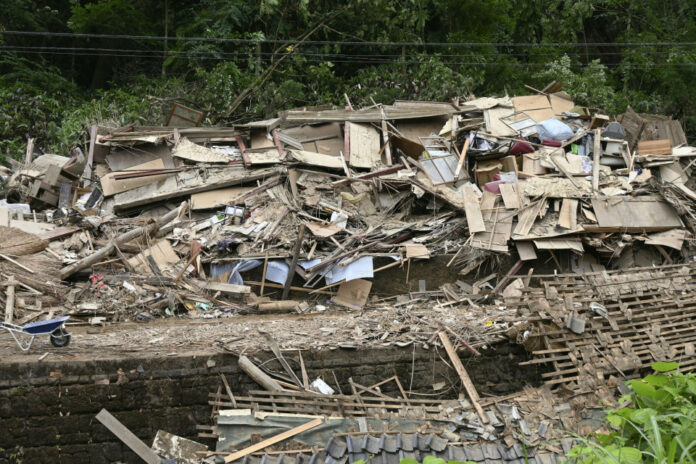 TOYAMA – Torrential rain hit regions facing the Sea of Japan from late Wednesday, causing mudslides and leaving a city assembly member dead in Toyama Prefecture.
Ishikawa Prefecture logged a record 6-hour rainfall total of 199 millimeters during the night in Kahoku, while Toyama Prefecture registered a downpour of 170.5 mm in Kamiichi, another record high.
The prefectures saw linear rain bands, known to bring heavy downpours, develop Wednesday night due to the seasonal rain front situated over the Japanese archipelago.
The body of Nobuhiko Akaike, a member of the Nanto assembly, was found Thursday at the site of a mudslide disaster in the city, police said. He went missing while going around a neighborhood urging residents to flee due to the risk of a nearby river overflowing.
A Nanto resident reported a mudslide around 2:10 a.m. Thursday, and a house was found destroyed nearby. Mudslides also cut off roads in neighboring Oyabe, leaving 41 households and their 101 total residents isolated, according to the police.
The Japan Meteorological Agency has forecast heavy rainfall with thunder in western Japan, particularly regions facing the Sea of Japan, on Thursday and in eastern Japan through Friday.
The agency alerted residents to be wary of mudslides, flooding in low-lying areas and of rivers bursting their banks.